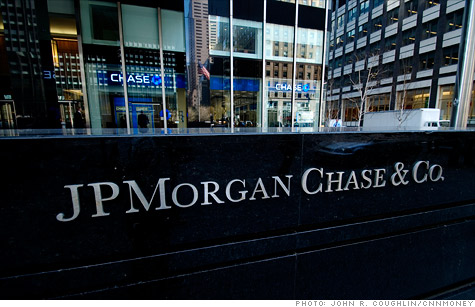 NEW YORK (CNNMoney) -- JPMorgan Chase has reached a settlement with the government that will cost the company $88.3 million over apparent violations of sanctions rules.
The JPMorgan Chase (JPM, Fortune 500) settlement covers a variety of apparent violations of international sanctions -- including ones against Iran, Sudan, and Liberia -- as well as "Weapons of Mass Destruction Proliferators" and global terrorism sanctions.
The settlement is the largest ever paid by a U.S.-based bank for sanctions violations, a Treasury Department official said.
The Treasury released details Thursday of an investigation by its Office of Foreign Asset Controls into apparent violations between 2005 and 2011, some of which it deemed "egregious."
For example, the Treasury found that the bank processed more than 1,700 wire transfers totaling around $178.5 million in late 2005 and early 2006 that involved Cuban nationals -- a violation of Cuban Assets Control Regulations.
According to Treasury, another financial institution tipped off JPMorgan Chase that it might be in violation. The bank conducted an investigation and reported the results to management, but the bank "failed to take adequate steps to prevent further transfers," or notify the Treasury Department.
JPMorgan spokeswoman Jennifer Zuccarelli said none of the allegations involved an intent to violate regulations.
"These rare incidents were unrelated and isolated from each other," she said. "The firm screens hundreds of millions of transactions and customer records per day and annual error rates are a tiny fraction of a percent."
Treasury says in 2009 the bank made a loan in which the underlying transaction involved a vessel that was off limits because of its affiliation with the Islamic Republic of Iran Shipping Lines.
In March of 2010, JPMorgan Chase self-reported this violation to Treasury, but did not mail the notice until three days before it was scheduled to receive payment on the loan.
According to the Treasury, since JPMorgan Chase is a "very large, commercially sophisticated financial institution," its managers "acted with knowledge of the conduct constituting the apparent violations" and "recklessly failed to exercise a minimal degree of caution or care."