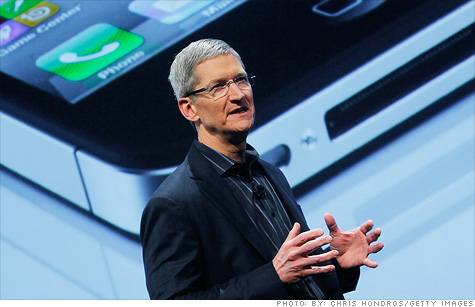 Apple's board is paying a rich sum to lock new CEO Tim Cook up for the next decade.
NEW YORK (CNNMoney) -- Steve Jobs took home $1 a year for serving as Apple's CEO. The company's new leader, Tim Cook, is getting a richer deal.
Apple's board has given Cook a restricted stock grant of 1 million shares, Apple (AAPL, Fortune 500) reported late Friday in a regulatory filing. Those shares have a market value of $383.6 million, based on the stock's closing price on Friday.
But Cook will collect the shares only if he remains an Apple employee for the next decade. Half of his stock will vest in August 2016, and half will vest five years later, in 2021.
As Apple's chief operating officer, Cook collected an annual salary last year of $800,000 and an additional bonus of $900,000. He also took home a special award from the board for his "outstanding performance" as acting CEO during Jobs' 2009 medical leave: A $5 million cash bonus and a grant of 75,000 shares.
That put Cook's total 2010 compensation at $59 million -- enough to make him one of the tech industry's highest-paid executives.
In contrast, Steve Jobs earned a $1 annual salary every year since he rejoined Apple in 1997. While many $1-a-year CEOs reap big back-end stock and options packages, Jobs was almost a financial ascetic: He collected no stock awards most years, no cash bonuses and no perks, even turning down a 401(k) match from Apple.
But in late 1999, Apple's board famously came through with a whopper of an executive bonus: The company spent $90 million to buy Jobs a Gulfstream V airplane. It also tossed in options on 10 million Apple shares.
"Apple's market cap has risen from less than $2 billion to over $16 billion under Steve's leadership," Apple board member Ed Woolard said at the time. "Steve has taken no compensation thus far, and we are therefore delighted to give him this airplane in appreciation of the great job he has done for our shareholders during this period."
Apple's market cap currently stands at $355.6 billion -- making it the most valuable publicly traded company in the world.