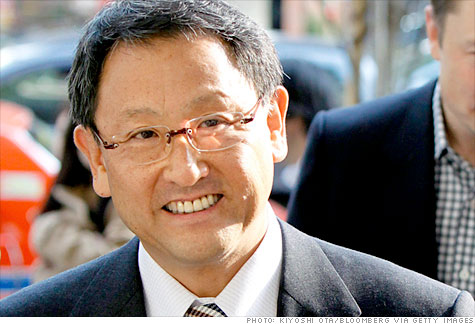 FORTUNE -- Is it fair to say there is a leadership vacuum in the auto industry?
None of today's veteran CEOs seem interested in grabbing the public spotlight. If you are looking for a highly visible pitchman like Chrysler's Lee Iacocca or a quotable car guy like GM's (GM, Fortune 500) Bob Lutz, they are all but impossible to find.
Ford's (F, Fortune 500) Alan Mulally and Fiat-Chrysler's Sergio Marchionne are either too busy or too preoccupied to use their positions as bully pulpits. They seemingly have no interest in becoming a public face for advertising purposes or as industry spokespersons. You'd be hard-pressed to identify their positions on any relevant issue -- whether it is raising the debt ceiling or just the gasoline tax.
In Europe, German luxury carmakers are enjoying blowout years at the same time that they undergo historic transformations in response to fuel economy regulations and concerns about climate change. Yet you won't find Mercedes' Dieter Zetsche in any TV commercials featuring "Dr. Z" the way you did in his Chrysler days. And BMW's Norbert Reithofer, who worked his way up through manufacturing in the tradition of BMW CEOs, is determinedly low-profile.
Only Carlos Ghosn, he of the two-continent Renault-Nissan alliance, has the wattage and the willpower for global star power. But he's suffered setbacks at Renault in recent months, and his status as a turnaround magician is on hold until his gamble on the all-electric Leaf pays off.
Into this vacuum steps an unlikely candidate from an unlikely company: Akio Toyoda from Toyota (TM).
Unlikely because Toyota CEOs are traditionally gray-suited men who affect the public personalities of actuaries and personify the faceless anonymity of consensus management. Akio Toyoda, 55, also seemed to ascend to his post more on the basis of ancestry -- he's the grandson of founder Kiichiro -- than ability. Before his elevation in November 2009, he had caused few ripples at the company.
It turns out that the preseason predictions were wildly wide of the mark.
Despite having taken office less than two years ago, Toyoda has already infused his car company with a new spirit, according to reports, rallying it from the travails of its multiple recalls early in 2010 and the devastation wrought by the earthquake and tsunami.
With those crises behind him, Toyota's CEO is finding time to take a hands-on role in developing edgier new models. Keep in mind that Akio Toyoda is no meddler from management, ordering the movement of a piece of chrome or the enlargement of the trunk to accommodate a bag of golf clubs. He's a test driver certified for Germany's famed Nurburgring, he regularly drives competitive vehicles, and he isn't shy about making highly technical suggestions about ride and handling.
Toyoda has also taken more of a personal interest in the U.S. market. He has long had American ties, having earned an MBA at Boston's Babson College and speaking excellent English, although he still prefers to use an interpreter for meetings with the press.
Here are just a few of his recent star turns:
An emotional and highly personal speech at Toyota's dealer meeting in Las Vegas last spring to sustained applause, followed up this month with an enthusiastic sendoff for the 2012 Camry at the 25th anniversary celebration of Toyota's Georgetown, Ky. plant.

A front-page story in industry bible Automotive News, which is praising his knack of developing personal ties with autodom's movers and shakers.

In an incident quickly enshrined in industry lore, a chance airport encounter with Ford's Mulally leading to the announcement of a potentially important collaboration on hybrid technology for rear-drive vehicles.

His personal diplomacy leading to an investment in electric car maker Tesla (TSLA) and an unusual deal with Aston Martin to rebadge Toyota's iQ minicar as the sport car maker's Cygnet.
Expect to see more of Akio Toyoda in coming months as Toyota launches a fleet of new models and bids to regain its title as the world's largest automaker. If he so chooses, he's ideally positioned to provide the industry with some needed leadership for the next ten years.