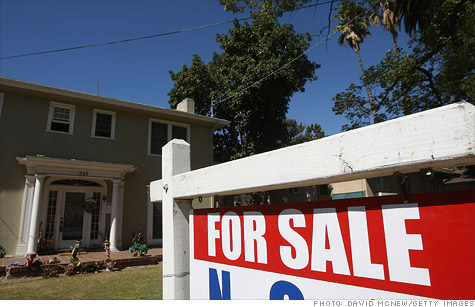 NEW YORK (CNNMoney) -- Home prices made a comeback during the second quarter, but the struggling housing market isn't out of the woods yet.
Prices rose a substantial 3.6%, compared with the three months ended March 31. But home prices are still down 5.9% compared with the second quarter of 2010.
The rise in home prices came after three consecutive quarters of drops, as reported by the S&P/Case-Shiller national index -- an influential gauge of residential real-estate markets.
The year-over-year decline was a bit more than the than the drop of 4.7% that had been forecast by a consensus of experts at Briefing.com.
A separate monthly index of home prices in 20 major metro areas also reported a month-over-month gain of 1.1% for June, and a drop of 4.5% year-over year.
The quarter-over-quarter price increase may be the last one for a while, according to Stan Humphries, chief economist for real estate website Zillow (Z). He expects prices will weaken again due to economic woes.
"The August turmoil of credit rating downgrades, negative GDP revisions, stock oscillations and European debt woes are likely to leave a mark on both August home sales and home value appreciation," Humphries said.
The economic woes already seem to have affected new homes sales, which declined in July. Real estate gurus have been pushing back forecasts for a housing market recovery.
Even mortgage interest rates hitting new lows in August failed to move many potential homebuyers. The number of people applying for loans to purchase homes dropped nearly every week during the month, according to the Mortgage Bankers Association.
None of the 20 cities coverted in the report recorded price decreases in June: 19 posted gains and one, Portland, Ore., was flat.
The biggest gains were made by Chicago and Minneapolis, which were both up 3.2%. Boston prices were up 2.4% and Washington's rose 2.3%.
The 20-city index is at approximately the same level it stood at in June 2003, following a roller-coaster ride of big gains and losses. The index peaked in mid-2006 and is down nearly 32% from that high.
Anthony Sanders, a real estate professor at George Mason University, called the latest gains a "blip."
"I would take it with a grain of salt," he said, "and I'd be very surprised if, come fall, the increases continue."
Hi attributed some of the improvement to a change in the mix of homes being sold. There are more short sales these days -- up 19%, according to RealtyTrac -- compared with sales of properties repossessed by banks.
That would be enough to account for much of the quarterly increase in the Case-Shiller index.