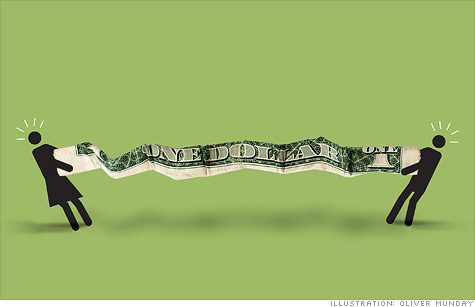 (MONEY Magazine) -- With the economy still sputtering, you and your spouse may have found your money frustrations with each other worsening. In a recent American Express poll, 61% of couples said discussions of household finances were turning to arguments. A year ago it was 45%.
Unfortunately, "money conflicts tend to be more negative than other kinds of fights," says Lauren Papp, a professor at the University of Wisconsin at Madison, who's done research on the topic.
And recent studies show a correlation between money disputes and marital discontent. So how do you tell if yours are divisive or just routine?
Signs of trouble
You argue often and intensely.
In an analysis of 4,500 couples, Jeffrey Dew of Utah State University found that those who disagreed about money once a week were twice as likely to divorce as those who differed less than once a month.
Also a red flag, says Barbara Nusbaum, a New York psychologist specializing in money: You have the same fight again and again.
The disputes bleed over.
You have reason for concern if the negativity spreads, the battles cause you to withdraw from each other (particularly common after money fights, according to a study in the Journal of Family and Economic Issues), or you are prevented from making financial progress.
Debt, savings, or spending is the big issue.
These topics are particularly corrosive. Dew found that a couple with $10,000 in debt and no savings is twice as likely to divorce as a couple with no debt and $10,000 in savings.
Other research found greater marital dissatisfaction when one spouse disapproves of how the other handles money.
How to quell the yelling
Attack the financial issue.
For example, set up automatic transfers to an IRA to boost savings or use the Debt Reduction Planner at cnnmoney.com to create a pay-down plan for IOUs.
Can't work it out on your own? A nonprofit credit counselor (nfcc.org) can help with debt.
For other issues, many fee-only financial planners (napfa.org) will do one-time consults; prices run up to $300 an hour.
Attack the relationship issue.
Often money fights are about more than just money, notes Nusbaum. They're about differences in what money means to you. Examples include: status, security, or control.
Send The Help Desk your questions about money conflicts.
In such cases, a marital education program like PREP or PAIRS might help. These workshops, usually less than $30, teach conflict resolution.
Couples therapy is another option, though costlier at $60 to $250 a session. For best results, seek a counselor with money expertise (search aamft.org and financialtherapyassociation.org).