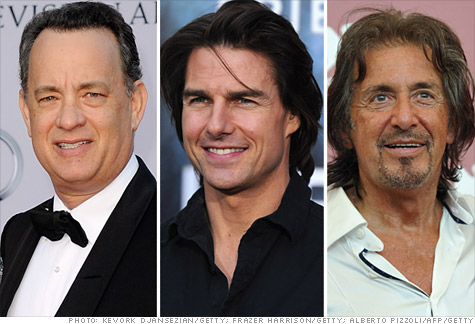 What if Bill Ford, Alan Mullaly, and Sergio Marchionne were played by Tom Hanks, Tom Cruise, and Al Pacino?
FORTUNE -- The advance buzz around Drive, the movie about a Hollywood stunt driver played by Ryan Gosling, got me to thinking: We have lots of movies featuring cars, from Bullitt to The Fast and Furious, but where are the movies about car companies?
After all, the people in this high-stakes, high-profile business should be as interesting as the products they build. Opportunities are plentiful for the conflict and resolution that make for a compelling story. The city of Detroit, with its colorful boom-and-bust history, makes a compelling backdrop. (For proof, see Clint Eastwood's Gran Torino.)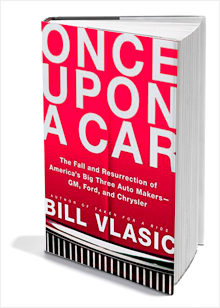 When Hollywood has tried capturing the auto industry on film, it aimed at realistic drama but wound up with suds. In 1978, Arthur Hailey's Wheels starred Rock Hudson as a ruthless top executive of National Motors who lets nothing get in the way of launching the Hawk but falls victim to his own demons. Very daytime TV. In The Betsy, based on a steamy Harold Robbins novel, the aging founder of an auto giant, played by (of all people) Laurence Olivier, comes out of retirement to develop a safe, fuel-efficient car.
We know how that turned out. 30 years later, they are still trying.
What filmmakers have lacked is believable characters and realistic dialogue. Until now, that is, thanks to a new book, Once upon a Car, by veteran Detroit newspaperman Bill Vlasic. Vlasic knows the industry in and out and enjoys near-universal access to its key figures. He recounts a tale filled with shrewd insights into their characters and conflicts told through verbatim accounts of their conversations. It's the first nonfiction auto book that reads like a screenplay.
Advance copies have already created a stir in Detroit. Vlasic quotes executives trash-talking the competition and dissing each other behind their backs. In other words, he portrays them as behaving like actual human beings, except that, according to Automotive News, "The Detroit 3 have coexisted for decades in the same city by observing an unwritten code of conduct that shuns such badmouthing."
In broad outline, the story is a familiar one: GM (GM, Fortune 500) stumbles into bankruptcy like a wounded but not particularly self-aware bull elephant; feisty Chrysler falters under the feckless ownership of, first, Daimler-Benz and then Cerberus; and Ford (F, Fortune 500), after years of chaotic management, finds salvation in the form of a former aerospace executive.
There are plenty of meaty roles here. In the movie version, GM CEO Rick Wagoner would be played by Tom Wilkinson. He's a big, well-intentioned man who knows he is surrounded by dysfunction but is too gentlemanly to resort to the ruthless tactics that are needed to save his company from collapse.
His highly-visible lieutenant, Bob Lutz, is type-casting for Sean Connery: crusty and driven to build better cars, yet occasionally sidetracked by his own interests and the maintenance of his image.
Here's an exchange that Vlasic quotes:
Lutz: "What we've got to do is put another thousand dollars worth of goodness into the car to give it more value. You can command better prices then."
Wagoner: "I understand. The problem is, how are we going to live through that time when the vehicles are better, but we are not commanding better prices?"
Lutz: "If we keep this incentive war going, we're going to give whole margin away. Once your margin is zero, you can multiply it all you want, and it is still zero."
Wagoner: "Don't get all finance-y on me -- that's my specialty, not yours. We're trapped in this system. The only thing we can do is to move full-steam ahead."
(In an author's note, Vlasic explains: "Conversations were reconstructed based on the recollections of at least one participant; others involved were asked about their accuracy.")
Over at Ford, the principals get much gentler treatment, as befits their ability to steer past bankruptcy by taking out a monster loan. Picture Tom Hanks as Bill Ford, the popular, easy-going everyman (who incidentally controls an auto company), and Tom Cruise as Alan Mulally, the ever-smiling, high-energy action hero who makes the superhuman look ordinary.
The seeds for the Ford-Mulally bromance are planted at a secret meeting in Ann Arbor at Ford's house where Ford tries to recruit the Boeing executive to the automaker:
Ford: "I'm pretty fearful of what I sense is coming at us, and it would be so much better if I had an executive who had been through what we're about to go through."
Mulally: "Remember, I'm an engineer. I solve problems, and I create things. If you're going to turn this around, you need a plan."
(Ford brings up fuel economy, hybrid cars, and protecting the environment).
Mulally: "God, I have your vision too! I have to make that happen."
(But Mulally's decision to "make that happen" comes only after several weeks of dithering. Finally, he places a call to Ford):
Mulally: "This is just so compelling. I want to turn around this great company with you."
Ford: "Oh my god. How soon can you get here?
A key supporting role in this melodrama belongs to the United Auto Workers' president Ron Gettelfinger, who throws a wrench in the works every time a solution appears to ease the industry's crushing labor costs. Paging Willem Dafoe.
But Gettelfinger meets his match when he battles Fiat CEO Sergio Marchionne over concessions on wages and benefits. Gettelfinger's favorite tactic is to get up and leave the meeting without saying a word.
Marchionne (played by Al Pacino): "Do you think I'm fucking stupid? We need to come up with a competitive wage rate and structure here!"
Gettelfinger: "I believed the Germans when they came in. Then I had no choice but to support Cerberus. You are the third guy saying you are going to save it. Why should I believe you?
Marchionne: "I know how to run a car company, not like that nonsense at Cerberus. I may be lousy at a lot of other things. But I know how to run a car company."
Once upon a Car contains plenty of meaty supporting roles as well: George Clooney as Ford's Mark Fields, whose good looks don't prevent him from building an impressive career; Dustin Hoffman as Steve Girsky, the self-described "fast-talking New York Jew" who became GM's truth-teller; and a walk-on role for Brad Pitt as nonagenarian investor Kirk Kerkorian (that's Pitt as an old man in The Curious Case of Benjamin Button.)
Casting should start as soon as possible because roles could change. Leadership of the domestic industry seems to rotate every few years, and another company may find itself on top. Who knows? If only George C. Scott was still with us to take on the role of GM CEO Dan Akerson.