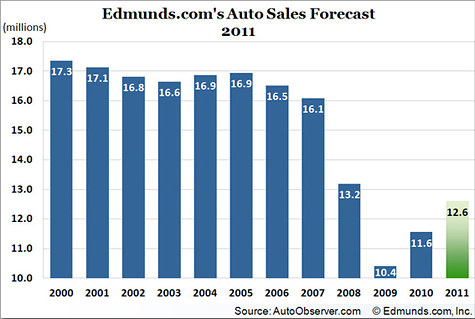 FORTUNE -- Fears of a global recession, brought on by slowing China growth and financial panic in Europe, are dampening hopes for a strong U.S. recovery in auto sales.
That could have consequences that ripple far beyond Detroit, Wolfsburg, and Toyota City.
Autos are a bellwether industry -- the only one that reports the sale of every single one of its products, identified by manufacturer and model line, on a real-time monthly basis. Imagine if Apple (AAPL, Fortune 500) and other makers did that for tablet computers, or Procter and Gamble (PG, Fortune 500) and Colgate Palmolive (CL, Fortune 500) did that for toothpaste. Sales are as public as baseball box scores; anybody can follow them.
Until very recently, autos have been holding up as one of the few bright spots in U.S. manufacturing. New assembly plants are opening and automakers are adding to their payrolls. Autoworkers have entertained visions of fat profit-sharing checks as they concluded contract negotiations with GM (GM, Fortune 500) and continue them at Chrysler.
No more. This morning Edmunds.com became the latest forecaster to put a down arrow on its 2011 outlook, slashing it to 12.6 million vehicles, 300,000 units below the 12.9 million vehicles projected earlier this year (see chart above).
That's a big adjustment coming so late in the year, but Edmonds.com economist Lacey Plache reasons that new-vehicle sales are unlikely to return to the levels expected earlier this year as quickly as expected.
She adds: "Although some consumers who deferred purchases earlier this summer are responding to improving vehicle supply and more competitive prices, declining economic conditions are keeping other consumers away from dealer lots and will continue to do so at least through the end of the year."
Other forecasters are getting equally gloomy -- a big change from their outlooks of before.
As recently as April 25th, I wrote approvingly about anew forecast from IHS Global Insight that had car sales under one scenario climbing steeply to 17 million by 2015. It foresaw a healthy economy expanding at roughly 3% per year and creating two million new jobs annually. Its reasoning was that years of below-average sales would create pent-up demand that must be satisfied as long as automobiles remain a primary mode of transportation.
But those hopes have been dashed, at least temporarily, and IHS Global Insight has twice lowered its 2011 estimate -- from 13.3 million to 12.9 million and now 12.4 million -- and brought its 2015 forecast down as well, albeit to a still rosy 16.4 million.
Bearish forecasters are coming out of their caves. J.D. Power cut its outlook to 12.6 million in August and brought its 2012 number to 14.1 million at the same time.
But even that may be too optimistic. Independent analyst Warren Browne of Automotive Compass has been figuring on 2011 sales coming in around 12.5 million since February. Based on some new work he has done that ties auto sales to GDP growth, he sees 2012 sales stalling at 13.2 million. He's assuming annual GDP growth of only 2.5% for the rest of the decade and autos not peaking in the current economic cycle until 2019.
"The current automotive cycle is operating below trend," Browne writes. "There is not enough economic support to alter this path for at least a few years.
This sudden change in the industry's prospects comes after several months of encouraging developments. Sales ran at an annual rate of more than 13 million for the first four months of the year, up 18% from 2010. In early summer the market seemed to be shrugging off the impact of higher gasoline prices as well as supply shortages caused by the Japanese earthquake and tsunami.
But hiring slowed, consumer confidence tanked, and the European financial crisis depressed the stock market. Reasons Edmunds.com's Plache: "Monthly year-over-year growth rates of 3% to 6% are more likely than a return to the early-year average growth rate of 18%."
Without a significant increase in incentive levels, which the industry has vowed to resist, or a sudden improvement in consumer confidence, which seems equally unlikely, consumers will restrict their automotive shopping to used car lots -- increasingly picked over -- or stay away from car dealers entirely.