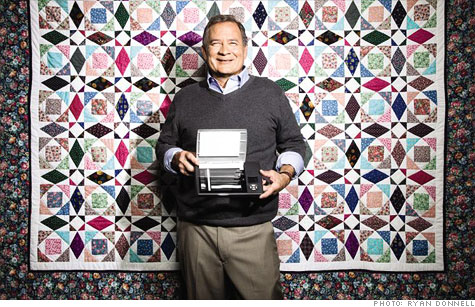 Gordon Nuttall, 56, Fort Collins, Colo. THEN: Software manager. NOW: Developer of a mobile scanner.
(MONEY Magazine) -- After 31 years with Hewlett-Packard, Gordon Nuttall was just one year shy of earning full retirement benefits when he was laid off in October 2008. "It was a bit of a surprise," says Nuttall, who'd worked as a software program manager. "And management wasn't willing to make an exception for me."
Not ready to retreat from the workforce anyway, Nuttall began searching for a position like the one he'd had. What he found was a saturated job market.
"Because I was networking so much, I could see there was a wealth of talent available -- people who were downsized or had decided against retirement because their 401(k) had shrunk to a 201(k)," he says.
Send The Help Desk your questions about running a startup.
After discovering kinship with a group of five other tech castoffs, however, he became convinced that together they could form a blockbuster startup team.
Nuttall, who'd been part of a group that launched several lines of business within HP (HPQ, Fortune 500), began tossing around product ideas.
The six settled on one they found particularly promising: a portable, battery-operated scanner that could store images on a flash memory card.
The technology for such a device already existed. So did the audience, they figured: Scrapbooking hobbyists -- a universe of at least 17 million -- would be likely to want such a scanner, since it would allow them to digitize photos and heirlooms when away from a home computer.
Nuttall and one of his partners worked up a business plan. Another member of the team, an expert in supply chains, arranged for them to visit manufacturers in Asia.
In January 2010, Couragent -- a name reflecting the founders' shared spunk --officially launched. By October, they introduced the Flip-Pal scanner, at a retail price of $150.
At first, Flip-Pal was sold only over its own website, but after Nuttall sent a sample to Amazon.com, the online giant agreed to carry it.
In November a segment on the Home Shopping Network resulted in sales of about 700 devices. "The network's fulfillment partner ran out of product!" says Nuttall, who is CEO. Fortunately, Couragent's staff -- one other full-timer and 24 independent contractors -- had prepared for the possibility, making sure the company had extra inventory ready to go.
This year Nuttall expects revenue to hit $2.5 million. He'll take home about $16,000, a fraction of his previous $170,000 salary. But in five years, he envisions matching his prior pay, while running a $16 million company with five products. (Couragent just announced a commercial version of Flip-Pal designed to scan full-page documents.)
"We're doing interesting work in a creative environment," says Nuttall, who owns 26% of the company. "This is exactly what I was looking for."