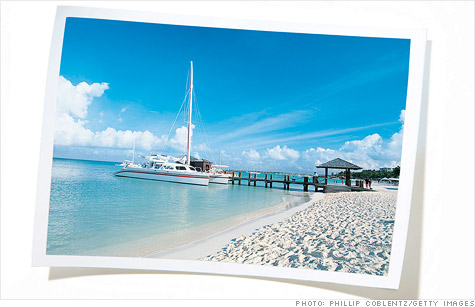 Find an island deal, without the storms.
(MONEY Magazine) -- Want to nab cheap Caribbean rates during hurricane season? On these three islands you'll cut your chance of a washout.
ARUBA
Like the Bahamas, Aruba offers snorkeling and secluded beaches -- but only a 4% risk of a hurricane through November, vs. a 51% chance in the Bahamas, says Phil Klotzbach, a research scientist at Colorado State University.
Seven nights at the Radisson Aruba will run you $2,023 in mid-November, vs. almost $4,000 in late December; flights from New York City start at $400.
Send The Help Desk your questions about vacation bargains.
Savings: 41% vs. high season
ST. MAARTEN
Known for its excellent food, this Dutch island has a 5% probability of a hurricane during November.
Spend seven nights in an ocean-view room at the Westin Dawn Beach Resort & Spa in St. Maarten for $1,603, and for a double dose of food and culture, cross the open border to the French-speaking -- and less developed -- St. Martin side of the island.
Savings: 54%
CONTADORA ISLAND, PANAMA
A 20-minute charter flight from Panama City, tiny Contadora in the Gulf of Panama is "still new enough as a tourist spot to offer good hotel and rental-house options," says Cheapflights.com's Lauren Sullivan.
At the Contadora Island Inn, seven nights run just $578. And unlike on the Caribbean side of Panama, showers pass quickly -- leaving you more time on the white-sand beaches.
Savings: 21%
NOTE: Low-season prices are based on airfare from New York City and a seven-night hotel stay for Nov. 2 - 9; high-season prices are based on Dec. 17 - 24 travel dates.