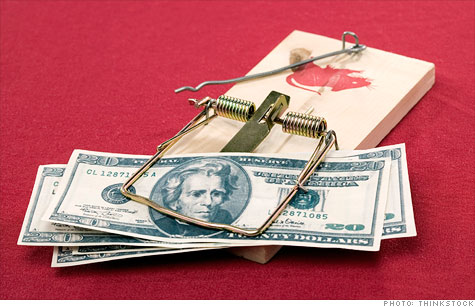 NEW YORK (CNNMoney) -- If you couldn't tell already, banking has become more expensive. More banks are assessing checking account fees, it's costing more to use ATMs and you're being hit with bigger overdraft charges.
While the majority of checking accounts were free last year, less than half now come without a price tag, according to an annual checking account study from bank-comparison site Bankrate, which looked at 243 interest and 238 non-interest accounts.
The study found that only 45% of non-interest checking accounts don't have fees, down from 65% in 2010, after hitting a peak of 76% in 2009.
But before you get too steamed and close your account, the study also showed that accounts that let you can take certain actions -- like carrying a minimum balance or making direct deposits -- to avoid being charged a monthly fee are increasingly common.
"The decline of free checking is in full swing. However, savvy consumers can take advantage of an increasing amount of fee waivers, most commonly with direct deposit," said Bankrate's senior financial analyst, Greg McBride.
In fact, 92% of checking accounts have fee waivers, meaning that if you are financially able to meet certain requirements, most checking accounts are -- or could become -- free.
And about 60% more non-interest checking accounts now carry balance requirements and fees compared with last year. The average balance required to avoid a monthly fee on non-interest checking accounts is $585, more than double last year's average of $249. If you're unable to meet that hurdle, the fee you could pay is also sharply higher. The average monthly fee is $4.37, up from $2.49 last year.
Fees for withdrawing money from ATMs that don't belong to your bank remain at record highs, with banks charging an average of $2.40, up from last year's $2.33.
Complicating matters, the fee you pay depends on where you live. Bankrate found that ATM fees in Denver are the highest, averaging $2.75, followed by San Diego, Houston, Seattle and New York City. The lowest ATM fees can be found in Cleveland, averaging $2.06, followed by Minneapolis, Tampa, Chicago and Cincinnati.
Overdraft fees also hit another record high this year, climbing to an average of $30.83, up from $30.47 last year.
Denver residents are being hit with the highest overdraft fees, averaging $33.50. Miami, Houston, Dallas and Philadelphia rounded out the five cities with the highest overdraft charges. The lowest overdraft fees are in San Francisco, with an average of $27.59, followed by Chicago, Cincinnati, Los Angeles and Minneapolis.
The good news: Despite several large banks canceling debit reward programs and testing fees on debit cards this year, fees on debit cards are still uncommon, according to Bankrate's study.
Only 4% of accounts charge you for using a debit card at the point of sale, and less than 2% charge a monthly or annual fee.