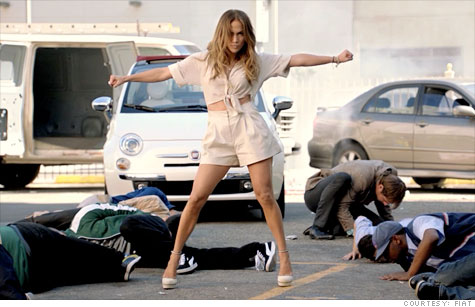 Call her Jenny from the (engine) block
FORTUNE -- If getting attention is the mark of successful advertising, then Fiat-Chrysler's chief marketing officer Olivier Francois is a genius.
On Super Bowl Sunday, the Olympics of advertising, Francois won a gold medal with a two minute Chrysler commercial that used a decaying and decrepit Motor City as a backdrop to celebrate cars that are "imported from Detroit." The ad boosted consideration for the Chrysler brand 267% after it aired, according to Edmunds.com and has now been viewed nearly 13 million times on YouTube.
That commercial starred fading rap star Eminem. Now Francois has used Jennifer Lopez, arguably another star somewhat past her prime, to create an extraordinary amount of buzz. For the past two weeks, Francois has aired a 30-second Fiat commercial showing a singing and dancing J.Lo plugging the 500 while fetchingly attired in a midriff-bearing blouse and pleated tap shorts.
The spot was carved out of a nearly six-minute music video promoting her latest album that shows Lopez being mobbed by adoring male fans and causing traffic chaos while driving down the street in a Fiat 500. It concludes with Lopez leading the men in a dance routine seemingly lifted intact from an old Michael Jackson video.
Critics are mystified about the connection between J.Lo and the Italian brand and have called have called irrelevant and pointless. Asked one reader of Advertising Age: "What is the association between a washed-up talentless diva and a car company that's looking to reintroduce its brand into the U.S.? She's endorsing anything and everything that will pay her to do so, and Fiat is muddying itself by associating with her. This is a completely nonsensical move on Fiat's part. Everything she touches becomes worthless. She has no brand and that will rub off onto Fiat. Ciao, baby."
Detroit curmudgeon Peter DeLorenzo, who presides over the Autoextremist web site, attacked the presence of the ads on Monday Night Football as "the most egregious bits of boneheaded media placements in recent memory." A post on Fiat's Facebook page declared "I've had my Fiat for about 5 months now, and after seeing the J.Lo commercial I'd like to return it."
The whole notion of using female celebrities to sell cars dates back to the 1950s, with Dinah Shore singing "See the U.S.A. in your Chevrolet," and doubtless it goes even earlier back, but apparently it still has legs. As of Thursday morning, the full-length J.Lo video had been viewed more than ten million times on YouTube, and the Fiat commercial alone was seen on 346,131 occasions.
More significantly, Edmunds.com reports that Fiat considerations, a vital measure for a brand that is being reintroduced, have climbed 31% since the ad broke on September 12. As it happens, the biggest one-day spike, up 95%, came when the ad aired throughout the day on NFL telecasts.
What's the connection between football and the 500?
Well, it turns out some six million women are said to watch NFL games, and the anthropomorphic appearance of the curvy-cute 500 lands it in the same company as other "chick cars" like the VW Beetle and the Mini Cooper.
Defending his choice of celebrity pitchwoman, Francois said in a statement: "Jennifer fits perfectly with the brand not because of who she is but because of what she is -- authentic, passionate, modern and a fighter determined to stand out from the rest."
Whether creating buzz and consideration leads to showroom traffic and eventual sales will be another question. The "imported from Detroit" Chrysler 200, was hardly a standout competitor in the midsize segment, but it accounted for nearly half of Chrysler brand sales last month when 10,861 of them found buyers.
The Fiat brand is still ramping up its dealer network, and the 500 has gotten off to a slow start. Since its relaunch earlier this year, 11,088 have found buyers, with 3,106 of the sales coming in August.
Like other Fiat-Chrysler executives, Francois must divide his time between Turin and Detroit. As a Frenchman selling Italian cars to American buyers, he has been criticized for being out of touch with the U.S. market. Fiat, for instance, has developed a Gucci edition, which hardly seems likely to endear it to customers in the Midwest. Some of his other ideas have seemed tired, like glamorizing Chryslers by infusing its ads with attractive models in elegant settings.
But Francois moves fast -- and confidently -- and he gets plenty of help from above. Like other Fiat-Chrysler executives, he remains tethered to CEO Sergio Marchionne and his Blackberry, who has his own very definite ideas about marketing. But Francois has unarguably brought some fresh ideas to an industry that for too long was satisfied to produce car ads featuring smiling couples and winding roads. I can't wait to see what he comes up with next.