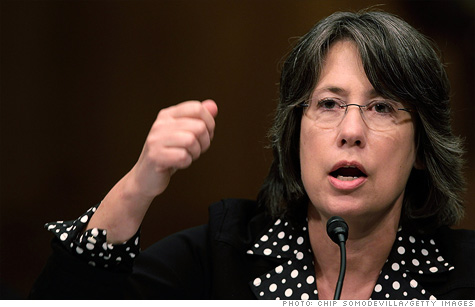 Former FDIC Chair Sheila Bair pushed for the big banks to be held to tougher capital standards before they exited TARP.
WASHINGTON (CNNMoney) -- Regulators were under pressure to cut the biggest banks loose from the Wall Street bailout program, a federal watchdog said in a report issued Friday.
Congress and regulators made it easier for the biggest banks to pay back tens of billions of dollars borrowed under the Troubled Asset Relief Program (TARP), according to a Friday report released by the Special Inspector General for TARP.
The report zeroed in on regulators who ignored their original requirements to ensure eight of the weaker big banks had enough of a capital cushion when they exited TARP.
The report suggests that if regulators had required Bank of America (BAC, Fortune 500), Wells Fargo (WFC, Fortune 500) and PNC Financial Services (PNC, Fortune 500) to raise as much capital as Citigroup (C, Fortune 500) had to, the banks may have been in a stronger position.
Regulators had wanted banks to issue at least one dollar in new common equity for every two dollars they borrowed from the federal government. In many cases, that didn't wind up happening.
"Regulators leveraged TARP repayment requirements to improve the quality of capital held by the nation's largest financial institutions in the wake of the financial crisis, but relaxed those requirements shortly after establishing them," the report warned.
TARP is the $700 billion bailout program Congress passed in late 2008 to stop the collapse of the U.S. financial system. While the program remains a political punching bag, it's now largely credited for stabilizing the financial sector.
This report is the first in many months to raise new questions about the health of some of the biggest banks after they were allowed to stand on their own two feet.
Shares of many big banks have fallen lately due to worries that they may have exposure to European sovereign debt and European banks. Concerns about the slowing economy in the U.S. and what that could do to mortgages, credit cards and other loans on their books aren't helping.
Bank of America has come under the most pressure. Its shares are down more than 52% from a year earlier. Investors fear that it may need to raise more capital to deal with many lawsuits against it tied to bad mortgages the bank inherited when it purchased Countrywide Financial.
The report points out how regulators were at odds about the amount of capital banks should be required to raise. And it said that former FDIC chair Sheila Bair wanted tougher standards for banks, especially Bank of America.
Bair told SigTARP that the Federal Reserve and the Office of the Comptroller of the Currency claimed Bank of America was "not strong enough" to raise as much capital as regulators originally wanted. She said that "frustrated me to no end," and added that it "mystified" her.
"The point was if they're not strong enough, they shouldn't have been exiting TARP," Bair told SigTARP, according to the report.
However, Fed Reserve Gov. Daniel Tarullo and former Fed Gov. Donald Kohn told SigTARP that the standards were lowered because the markets couldn't absorb so many offers of new stock at the same time.
"If they went out for something and didn't get it, it would be a vote of no confidence," Kohn told SigTARP.
A Treasury official also defended regulators' decision to allow big banks to leave TARP.
The official pointed out that at the time, Citigroup's issuance of common stock was the largest public equity offering in history. Offerings from other big banks were also among the ten largest ever.
"What the regulators did was really develop a general standard, which they applied looking at the world as it was," the Treasury official said.
The Treasury official said he's confident banks left the bailout program in a strong position and that regulators made sound decisions.