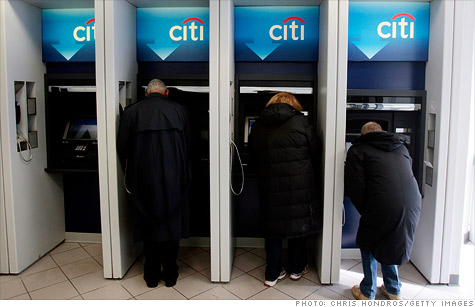 NEW YORK (CNNMoney) -- The fees keep coming. Citi is the latest big bank to slap customers with a round of fee hikes. This time, on its checking accounts.
Starting in December, customers who hold its mid-level Citibank Account will be charged $20 a month if they fail to maintain a minimum balance of $15,000 in their combined accounts. Previously, account holders had to carry a minimum balance of $6,000.
At the same time, customers who have the bank's EZ Checking account will start being charged $15 a month if they don't carry a minimum balance of $6,000. Citi (C (C, Fortune 500)) says it is phasing out the EZ Checking package, which currently carries no monthly fee for balances over $1,500, and is instead offering customers either the Citibank Account or its Basic Banking account, which also carries a fee.
Last month, Citi said it is hiking the fee on its Basic Banking account from $8 to $10. Customers will be able to avoid paying the $10 fee by either maintaining a minimum balance of $1,500 or by making one direct deposit and one automatic online payment through their checking account each month, said Citi.
Currently, account holders must make five transactions per month in order to avoid paying the fee and there is no minimum balance requirement.
Citi's fee hikes come just days after Bank of America (BAC, Fortune 500) announced it would charge a $5 fee for debit card purchases. Wells Fargo, JPMorgan Chase (JPM, Fortune 500), Sun Trust and Regions Financial (RF, Fortune 500) have all also rolled out similar fees in select markets in recent weeks.
"The regulatory environment has changed a great deal -- particularly with the Durbin Amendment -- and we're seeing the results of that now," said Claes Bell, banking reporter with Bankrate.com. Going forward, "we're going to see more large national banks announce fees."
With the new regulation that caps how much revenue banks can get from the swipe fees they collect from merchants, banks must look for other ways to cover that lost income, explained Nessa Feddis, vice president and senior counsel of the American Bankers Association.
"We don't expect to pay nothing to ride the train, it's the same thing with a checking account," she said.
Citibank said it chose not to charge a debit card fee because its customers did not want it. "There's a reason why we structured it this way," said Catherine Pulley, spokeswoman for Citi. There are also no hidden fees, Pulley added, and customers will benefit from free online bill pay and free access to non-Citi ATM machines.
While the majority of checking accounts were free last year, less than half now come without a price tag, according to a recent study from bank-comparison site Bankrate, which looked at 243 interest and 238 non-interest accounts.
Like Citi's new offerings, 92% of checking accounts have fee waivers, meaning that if you can meet certain financially requirements, most checking accounts are -- or could become -- free.
This story was updated at 3:01 p.m. on October 5 to include the current minimum balance requirement for EZ Checking accounts.