FORTUNE -- Disenchantment with American institutions like big business seems to be at an all-time high. So what is a Ford Motor retiree doing spending $15,000 of his own money to praise his former employer and its top management?
The answer is in a 500-page self-published book, "Ford Motor Company: The greatest corporate turnaround in U.S history," which amplifies nearly every positive remark about Ford (F, Fortune 500) that has appeared in print in the past four years. It is a remarkable exercise in hagiography.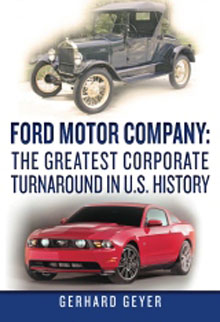 So what does the author have to say when the Ford juggernaut loses a few RPMs, as it did earlier this week when profits slipped and reliability measures cratered? Does he see them, as many analysts do, as mere blips on the road to an enduring prosperity -- and restoration of the common stock dividend?
Surprisingly, no. He sees trouble ahead in the form of deteriorating quality, millions of recalls, a growing labor cost disadvantage versus the transplants, and losses in Europe.
Accurate or not, the book and its author are a reminder that auto industry has a way of making hash of the most informed predictions. Its annals are filled with examples of results that defied earlier forecasts -- both on the upside and the downside.
The lead times in publishing make it that authors of books are particularly prone to spectacularly bad calls in this cyclical industry prone to unpredictable reversals of fortune. I think of it as the Halberstam phenomenon, in honor of the late journalist David Halberstam, who spent five years reporting a book on the auto industry in the U.S. and Japan. He published his findings in 1986 in "The Reckoning " when Nissan (NSANY) was on a roll due to its splendid management and diligent workers and Ford was in decline and was seen as morally bankrupt.
It was a well-documented theory -- except that Ford was about to revive itself with SUVs and trucks while Nissan reversed its climb and began to spiral downward, leading to its eventual rescue at the hands of Carlos Ghosn. Nobody criticized Halberstam for his reporting; his book had just been outrun by events.
Today of course, Chairman Bill Ford and CEO Alan Mulally have been showered with adulation since Ford refused a government bailout, dodged bankruptcy and returned to profitability. They have been lionized in numerous magazine articles and books, including, most recently, "Once upon a car" by New York Times reporter Bill Vlasic. Coming in March is another book: "American Icon: Alan Mulally and The Fight to Save Ford Motor Company" by Bryce Hoffman of the Detroit News. It is said to have been based on 600 interviews, most of whose subjects, it seems fair to guess from the title, will be adding their applause to the Mulally claque.
How's Mulally doing lately? Consumer Reports writes in its November issue that "Three new or redesigned models-the Explorer, Fiesta and Focus-had below-average reliability in their first year. We have often found that new or revamped models have more problems in their first year than in subsequent model years. Ford's problems underscore our advice to hold off buying a new car in its first year."
As for those third-quarter earnings, the overall decline of two cents a share wasn't earthshaking, but Ford got punished, its shares falling 81 cents, or 6.5%, at one point.
Which brings us to one Gerhard Geyer, author and publisher. Geyer describes himself as having been an executive at Ford for 30 years in business planning, corporate strategy, business development, product planning, divestitures, joint ventures and licensing deals, including a few years as director of Ford Aerospace. He admits that many chapters in his book "sound like they were written by a paid Ford agent." In fact, Geyer says he received no help from Ford and based his research entirely on newspaper clips, magazine articled and books, including my pieces for Fortune.
Given his investment in time and money, you would expect Geyer to be an unabashed fan. Indeed, he describes Mulally as appearing to be "a direct descendant of the Great King Solomon" and calls Ford (perhaps confusing it with Merrill Lynch) "the unstoppable thundering herd." Later he limns Mulally as the historical equivalent of Churchill, Gandhi and Vince Lombardi, and identifies 53 ways that he has improved Ford, including culture, reputation and morale.
But Geyer sees trouble ahead . When Ford's public relations department denied him help for his research, Geyter detected evidence of "arrogance, cockiness and self-delusion" -- the "euphoria of invincibility." He goes on: "Will Ford again be blinded by success? I am convinced that they are starting to believe in their own press notices and propaganda. This could eventually bring down to Ford to earth, and we start the entire cycle of destruction again."
As he told Fortune: "It may sound neurotic, but the Consumer Reports news will hopefully wake up the Ford team and bring them back to earth quickly from their euphoric state." We'll see whether it does, or whether Ford and those who write about it become another victim of the Halberstam effect.