FORTUNE -- It wasn't J.Lo's finest moment. The 42-year-old pop singer starred in an ad for Fiat's 500, first aired during Monday Night Football earlier this September. While her dance moves were fine, response to the ad online was less than enthusiastic. One Youtube commenter wrote dryly, "I can't believe a rich person like her would drive a car like this."
That's not exactly the kind of response Fiat was looking for. The company introduced its feisty little compact earlier this year, the first in a planned wave of new vehicles. But high hopes are giving way to real-world problems, especially in the wake of brand confusion and disparate opinions about the car's target customer. It may be too early to call the 500 a flop, but a lackluster start has cast a shadow over CEO Sergio Marchionne's grand plans to expand in the U.S.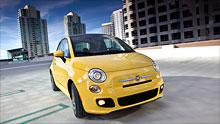 Chrysler LLC, which is controlled by Fiat SpA, has gotten off to a slow start selling the 500, selling only about 15,000 units through October. Marchionne took over the troubled automaker in 2004 and quickly turned it into one of the auto industry's brightest success stories. Over the past three years, he's taken control of Chrysler, mapping a grand alliance between the brands, including a return to the U.S.
The automaker has had to skin back on a first-year forecast of 50,000 sales in North America due, in part, to a slower-than-expected rollout of 124 dealerships or "studios," as the automaker calls them. Low consumer awareness hasn't helped either. Few Americans know much about Fiat except for those who remember its models from two or three decades ago like the Fiat 124 that were hounded from the U.S. market due to poor quality and reliability.
Michelle Krebs, a senior editor for automotive website Edmunds.com, predicted the car, which starts at about $15,000, will have "limited appeal" because of the small number of "tiny" cars like the 500 sold in the U.S. She also wonders if the car's appeal to women, implied by the J.Lo commercial, may make it less so to men.
Among automotive marketers the introduction of 500 is being measured against BMW's successful launch of the Mini brand. Mini, which was introduced in 2001, is selling about 50,000 units a year in the U.S. from some 90 dealerships. It has become a textbook example of how to succeed with low-budget, guerrilla marketing tactics -- like strapping a Mini on the roof of a Lincoln Navigator and driving it around urban centers.
Fiat plans to introduce a glitzier, higher-output Abarth version of the 500 in Los Angeles on Nov. 16, which could goose sales. It "will attract customers looking for more power, and can compete with customers looking at the Mini Cooper S," said Chintan Talati, a senior editor for TrueCar, an automotive website.
While it's too soon to regard Fiat as troubled, Chrysler will be watching carefully to make sure sales performance continues to gain strength after the slow start. Chrysler lacks a true luxury franchise and aims to add more Fiat models and eventually to bring the Alfa Romeo sport luxury franchise to the U.S. as well. Neither of those will happen unless U.S. dealers are satisfied that there is enough sales volume to justify investment in their studios.