FORTUNE -- Among the many reasons for the collapse of the old General Motors was its chronic inability to field a competitive small car in the U.S. Now, stunning sales of its Chevrolet Cruze show that post-bankruptcy GM is a very different company than it once was.
The Cruze has been wildly successful. Through October, GM (GM, Fortune 500) sold over 200,000 units, more than the Honda (HMC) Civic, Ford Fusion and Hyundai Elantra -- three popular small cars with long track records. What's more, the Cruze is within striking distance of the segment's top seller, Toyota's (TM) Corolla. Suddenly, the company that grew fat in the 1990s on gas-guzzling trucks and SUVs is cleaning up in one of the auto industry's most competitive sectors.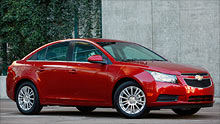 Even more impressive, GM accomplished such robust sales without deep discounts or shopworn gimmicks like volume sales to daily rental fleets. On Wednesday, GM posted net income of $1.7 billion for the third quarter, which included $2.2 billion of earnings before interest, tax and amortization in North America, an improvement of about $100 million from a year ago. (Compacts still make up a relatively minor percentage of the vehicles the company sells overall.)
Car buyers have been flocking to dealerships based on strong reviews and word-of-mouth recommendations, despite the fact that the car buying bible, Consumer Reports, has so far withheld its "recommended" rating because it hasn't gathered sufficient reliability data. A basic Cruze, which starts around $17,000, gets up to 36 miles per gallon. Edmunds.com, the automotive website notes, finally GM has manufactured a small car whose doors close with a solid "thunk."
Dealer inventory of the Cruze at month's end had fallen to a 25-day supply, according to Edmunds.com, a low number suggesting that GM's Lordstown, Ohio assembly plant is straining to keep up with retail demand. "There are very few problems in this industry that can't be solved with good product," said Aaron Bragman, an analyst for IHS Global Insight. "People seem to like the Cruze. It has good fuel economy and a better interior than many had expected from a GM car."
A hit like this at GM was almost unthinkable just a few years ago. Compacts that came before, like the Chevrolet Cobalt and Cavalier were, regarded by GM strategists as little more than annoying diversions from the business of selling larger, more profitable vehicles. Because the U.S. calculates corporate average fuel economy on the basis of sales weighting of all models, the smaller GM vehicles were needed mostly to comply with federal law. Thrifty Asian imports and tony European models mopped up sales, while GM's efforts languished.
Maintaining the Cruze's sales momentum won't be easy, though. John Mendel, head of Honda's U.S. sales operations, said last week that the Japanese automaker already is rushing a "refresh" of its new Civic, which was widely panned by reviewers. (Consumer Reports failed to recommend the new Civic for the first time in memory.) Having one of the segments front-runners effectively demoted has certainly helped the little Chevy surge ahead. Interest in the $40,000 Chevrolet Volt, an "extended-range electric," also helped to sell Cruzes, which are the same size and a lot less pricey.
The trick for GM will be to keep customers flowing to Chevrolet dealerships for each new model introduction. Joel Ewanick, GM's chief marketing officer, has tinkered with Chevy advertisements in an effort to strengthen the brand. The tagline "Chevy Runs Deep" seems to be getting some buzz in the U.S., where the brand overall is 14.4% ahead of 2010 in sales.
Next up? The Chevrolet Sonic -- and another crucial test of GM's capacity to make popular little vehicles. Even smaller than the Cruze, that model will be a subcompact, a segment few automakers of any kind have managed to crack in the U.S. If the company scores another Cruze-sized hit, it would go a long way toward erasing memories of the old GM's failures.