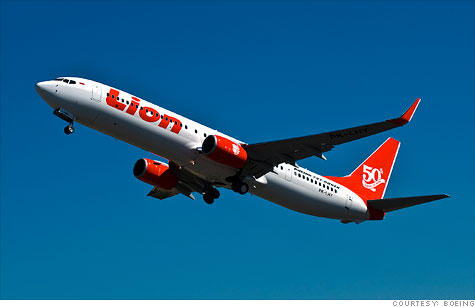 Indonesia's Lion Air set a Boeing order record with $22 billion worth of 737 jets.
NEW YORK (CNNMoney) -- Emirates Airlines' position as the biggest all-time orderer of Boeing jets lasted all of four days.
Boeing announced Thursday that Indonesia's Lion Air has set a record with a nearly $22 billion order of jets. The U.S. company had previously counted the jets in its sales order, but didn't disclose the buyer until the announcement.
The deal -- which will be signed Friday at the East Asia Summit in Bali, Indonesia, with President Obama in attendance -- includes orders for 29 737-900s and a whopping 201 of the new 737 MAXs, along with options for 150 additional future aircraft for Indonesia's largest carrier.
"With 230 airplanes at a list price of $21.7 billion, this deal when finalized will be the largest commercial airplane order ever in Boeing's history by both dollar volume and total number of airplanes," according to a statement from Boeing.
Boeing could not confirm that the new 737 MAXs will be built in the United States, where the 737s are made. "We're still evaluating our options right now," said Boeing spokesman Doug Adler. "We'll probably have better idea in 6 to 8 months."
News of the deal came just four days after Boeing announced an $18 billion order with Emirates for 777 jets.
Boeing also announced Thursday that it has committed to a $2.4 billion deal with Singapore Airlines, which has been listed as an unidentified customer since finalizing its order in August.
Shares of Boeing (BA, Fortune 500) eased 0.5% to $66 in midday trading.