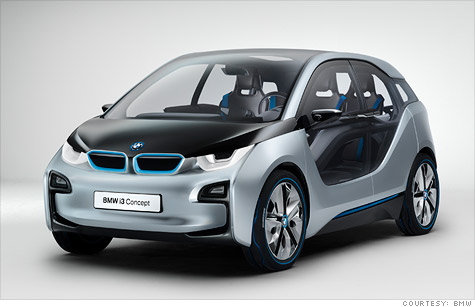 BMW's i3, a battery-powered car with a carbon fiber body on an aluminum frame, weighs 20% less than a typical 3-series.
FORTUNE -- Amid this difficult economic environment, sales of import luxury cars in the U.S. have actually improved. One manufacturer in particular stands out -- not just for its performance today but also for its development of future strategies. That company is BMW Group. Instead of merely indulging in its prosperity, it is investing in new structural technologies and venturing ever further into the post-oil world.
First, a look the present. BMW brand sales in the U.S. for the first ten months of 2011 were up 13%, even though production of its two best-selling models, the 3-series and 1-series, is winding down in anticipation of model changeovers. With unit sales of 199,552, BMW is closing in on Mercedes-Benz for luxury car sales leadership.
BMW's Mini brand isn't doing badly either. With the addition of the Countryman SUV, its sales have climbed this year to 47,050 from 38,538. The only group laggard is Rolls-Royce, which is selling in the low double digits. BMW's performance in the U.S. paled in comparison to China, now the world's largest car market. Sales there jumped 21% in the third quarter, and BMW is confident it can maintain the momentum even as the Chinese economy cools.
These robust sales have supercharged financial results. BMW's third-quarter earnings before interest and taxes rose by 44% year over year, while profit before tax went up 21%. The operating profit on autos was 11.9%, dwarfing Mercedes and causing one analyst to crow that BMW was simply "out-executing" its longtime competitor. An understandably ebullient chairman Norbert Reithofer said "We have recorded the best third quarter in the company's history. During this period, we achieved new records for sales volume, revenues, and earnings."
The opinion of analysts is almost unanimous: BMW remains one of the best-managed and best- positioned OEMs globally, with a great brand. It should continue to benefit from an improving model range, cost-restructuring, and growth in China.
BMW is also making an aggressive effort to reduce development and piece costs. Analysts say it will save 7% to 9% on parts costs for both the 1 and the 3. Many parts and components have been purchased at fixed prices for the lifetime of the new model. BMW has also lowered vehicle-testing costs by 30%.
With this remarkable performance in hand, BMW's best days lie ahead of it. The new 1-Series, its lowest-priced line, was unveiled at the Frankfurt show in September and is now being rolled out across Europe. The new 3-series, the model line that accounts for more than half of BMW's U.S. sales, will reach dealers in 2012. Early reviews are inconclusive, but its engineers have achieved the remarkable feat of making the 3 larger while still reducing its weight by 90 pounds.
BMW cars will be getting even lighter in the future. Last week, the company announced it has bought a 5% stake in SGL Carbon SE, a company that makes carbon fiber -- the advanced lightweight material used in building the Boeing (BA, Fortune 500) 787 Dreamliner. The purchase represents a change in strategy for BMW, which heretofore has shunned financial ties with suppliers and points to its increased use in future BMWs. But carbon fiber, which is used only sparingly now because of its cost and complexity, is understudying for a larger role.
BMW demonstrated just how large a role at the Los Angeles auto show earlier this month. For starters, it unveiled the i3, a battery-powered car with a carbon fiber body affixed to an aluminum frame that weighs just 80% as much as a typical 3-series. In all-electric mode, the i3 is designed to achieve a range of 80 miles per charge, which should be enough for most uses. For those who feel nervous, a second model will be available with a smaller engine. The i3 is designed as a commuter car and features carriage doors that maximize access to the rear seat. It can wear the BMW blue-and-white spinning propeller with pride: It scoots to 60 miles per hour in less than eight seconds. Models go on sale in 2013; figure on a price around $40,000.
Far more exotic is a carbon fiber sports car, the i8 plug-in hybrid. Performance is eye-popping: The i8 screams to 60 mph in 4.5 seconds and is capable of getting to a top speed of 155 mph. More pertinently, the i8 can travel around 20 miles on pure electric power before switching over to gasoline. Another 2+2 like the i3, the i8 concept was equipped with impractical butterfly doors for the show that are unlikely to show up on the production version. It is due to go on sale in 2014, and you can expect to pay in excess of $100,000.
BMW has been an unheralded pioneer in electric cars. While General Motors (GM, Fortune 500) and Nissan have been jousting over bagging rights, BMW has been field-testing 500 Mini Coopers whose back seats have been replaced by a pack of lithium ion batteries. Under idea conditions, the Mini E is said to be capable of a range of 156 miles.
The tests have produced some valuable findings. In May 2011 the Plug-in Hybrid & Electric Vehicle (PH&EV) Research Center at the University of California, Davis published the results of a consumer study of the U.S. Mini E field trial. The study showed that households adapted their driving around the capabilities of the electric car, and respondents said the Mini E met 90% of their daily driving needs. Another study in the U.K. found that one week was all that was needed for customers to adapt to the characteristics and peculiarities of driving an EV, such as charging, range, regenerative braking, and low noise.
Whether or not a car like the Mini E ever makes it into production, BMW clearly has its eye on the future -- and is developing a coherent storyline about how to get there. It has found that its highly-focused reputation for producing driving machines, which many analysts believed would be a drag, is actually turning out to be an asset in getting ready for the post-oil 21st century.