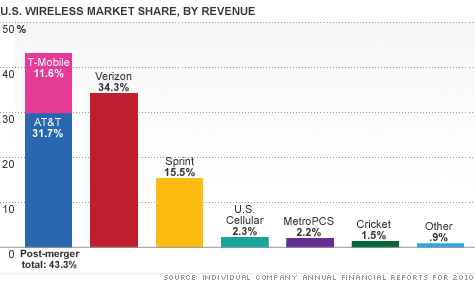 NEW YORK (CNNMoney) -- AT&T and T-Mobile hinted this Thanksgiving that their merger may be off, but the unpalatable repercussions of ending their eight-month pursuit of a deal suggests they may be playing a game of turkey.
Following an antitrust suit from the Department of Justice and a hearing on the merger called by the Federal Communications Commission this week, AT&T (T, Fortune 500) said Thursday it is no longer seeking approval for the merger from the FCC. The wireless giant then set aside $4 billion to cover the break-up fee it will owe Deutsche Telekom, T-Mobile's parent company.
If the marriage is not to be, the breakup would be painful for both companies. AT&T would have to pay T-Mobile's parent $3 billion and at least $1 billion worth of wireless spectrum, and it wouldn't gain access to the T-Mobile infrastructure that AT&T hoped to use to build out its next-generation wireless network. Meanwhile, the struggling T-Mobile would have to figure out a new way to stay afloat with a business that is losing revenue and customers in droves.
Emerging beaten-up from the called-off deal, AT&T and T-Mobile would find that the rest of the industry has grown stronger over the past eight months.
Verizon (VZ, Fortune 500) has expanded its market-leading 4G-LTE network to cover nearly 200 million Americans -- by far the largest next-generation network. Sprint (S, Fortune 500) is ahead of schedule in bringing its new 4G network online and it has begun selling the iPhone. Even regional carrier C Spire is now selling Apple's (AAPL, Fortune 500) iconic smartphone that was exclusive to AT&T nine months earlier.
That tough reality is why some experts believe it's too soon to call the deal dead.
"With the unrelenting scrutiny of the Department of Justice and the FCC, AT&T and Deutsche Telekom are now at the edge of a steep cliff," said Carrie MacGillivray, analyst at IDC. "Both parties need to make this deal work."
There are two ways it could ultimately be revived.
AT&T and T-Mobile "Lite": One potential way to get a deal done without angering regulators: AT&T could buy all of T-Mobile's network assets, and T-Mobile would become what's known as a "virtual network operator." Though AT&T would own all of T-Mobile's cell towers and spectrum, T-Mobile could sell service independently and essentially pay rent to AT&T to use their infrastructure.
AT&T would get the assets it was looking for in the first place, T-Mobile would only have to handle marketing and customer support, and Deutsche Telekom would get a huge cash infusion. What's more, the antitrust issues would likely be alleviated, since T-Mobile could continue to operate as a separate company.
"At the core, the AT&T and T-Mobile merger is about network assets and subscriber base," MacGillivray said. "Perhaps this change of course by AT&T and Deutsche Telekom will indeed make for a solution that does benefit all."
Zombie AT&T and T-Mobile deal: Sometimes patience is a virtue -- one that could ultimately revive the AT&T and T-Mobile deal.
It may sound crazy, but there's precedent for it. In 1997, when Southwestern Bell Corp. first tried to buy AT&T, then-FCC Chairman Reed Hundt called the proposal "unthinkable" under antitrust laws. But that was under a Democratic president during a time when the government was willing to engage in antitrust fights, such as the one it picked with Microsoft (MSFT, Fortune 500).
Then, in 2005, under a Republican administration that was decidedly more lenient on the antitrust front, SBC's acquisition of AT&T went through. It's quite possible that changing political tides might allow an AT&T and T-Mobile deal to pass.
"They may make a second attempt under different conditions; these things do happen," said Jeff Kagan, an independent telecom analyst. "I don't think this is dead. They may just let it lie for a while."
Still, others believe the deal is kaput.
"While AT&T claims it's going to concentrate on the court battle with the DOJ, this deal is toast," said Josh King, general counsel at Avvo.com and former senior corporate development executive at AT&T Wireless. "AT&T should get out from under this failed deal as quickly as possible. It's a distraction that makes it harder to compete against a formidable Verizon."
The T-Mobile deal would have been nice for AT&T, but a plurality of analysts believe it was not critical for AT&T to get the deal done. AT&T's new 4G network launched several weeks ago, and although the company publicly stated that it needed T-Mobile's wireless spectrum to bring its 4G network to 97% of Americans, the company could purchase new spectrum in a looming government auction that might be able to help it achieve its goals.
T-Mobile, however, will have to pursue a different buyer if its deal with AT&T is truly dead. Though the carrier's parent company will have $4 billion to play with to potentially build out a competitive network, Deutsche Telekom has been trying to shed its money-losing U.S. asset for more than a year now to focus on its European business.
Sprint or a number of cable providers could be potential bidders, though analysts agree that the beaten-down company wouldn't get close to the $39 billion AT&T was offering.