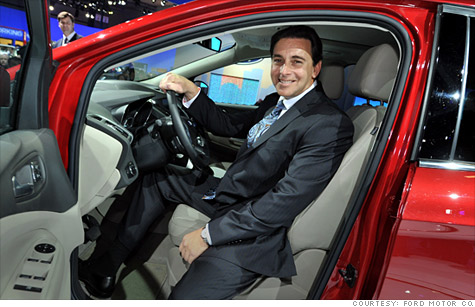 Mark Fields: Is he in the driver's seat at Ford?
FORTUNE -- The guessing game about who will succeed Alan Mulally as Ford CEO moved into the late innings this week with a front-page article in Automotive News. In a story headlined "4 top CEO candidates emerge inside Ford," it speculated on whether Mulally's successor would be an outsider like him or someone already working at the company.
In fact, insiders say the Ford (F, Fortune 500) succession race is all but over, and all that's left is the official announcement. The two big questions remaining: When will Mulally actually retire, and how will Ford handle the transition?
Executive succession at Ford is one of Detroit's enduring spectator sports. There have been any number of dramatic transitions, beginning in 1945 when Henry Ford II wrested control of the company from his confused grandfather and his thuggish underling Harry Bennett. They include the firing of Lee Iacocca in 1978, the ousting of Don Petersen in 1989, the noisy retirement of Alex Trotman in 1999, and the premature departure of Jac Nasser in 2001.
With that history, it is not surprising that there has been speculation about Mulally's successor almost since he arrived from Boeing (BA, Fortune 500) in 2006 and the noise level has been increasing ever since. In addition to employees and industry watchers, investors are paying close attention. Mulally has presided over a five-fold increase in Ford's stock price in the last three-and-a-half years and Ford is on the cusp of resuming dividend payments. Any surprise about management changes would not be well received.
Mulally turned a vigorous 66 in August and neither he nor executive chairman Bill Ford has given any hints when he will step down. The pressure on them to make a decision ratcheted up a notch this week with the News story. It wasn't based on any fresh information but instead recycled an unusual interview given more than three years ago by the company's former human resources head Joe Laymon.
The irrepressible Laymon, who liked to show off his knowledge of the company's inner workings, announced in 2008 that there were six inside candidates at the company to succeed Mulally. One week after that impolitic disclosure, Laymon left Ford. The accuracy of his supposition has never been confirmed.
Since then, one of Laymon's "Big Six", chief financial officer Don LeClair, has also left the company, and a second, Steve Odell, is busy keeping Ford of Europe afloat during the EU's economic crisis and is thus presumably disqualified from current consideration for the CEO's.
Who among the remaining four will get the nod?
Despite his stellar performance as CFO, Lewis Booth, 63, would probably prefer to retire, while marketing guru Jim Farley, 48, needs broader experience.
That leaves two candidates. Mulally is said to favor fellow engineer Joe Hinrichs. Hinrichs, 44, holds a degree from Harvard Business School, and has risen quickly up the ranks from the factory floor since joining Ford as the manager of a transmission plant in 2000. Hinrichs is currently chairman and CEO of Ford China and runs Ford's operations in Asia Pacific.
But Bill Ford has the deciding vote, and his choice, as well as that of many in the company, according to those in a position to know, is Mark Fields. Another HBS graduate, Fields, 50, runs Ford's core North American operations and is responsible for the company's biggest moneymaker: the F-150 pickup truck. During his tenure, Ford Motor has emerged as the member of the Detroit Three most able to resist the inroads of import competition. Although he spends weekends in Florida with his family, Fields logs long hours in the office during the workweek and avoids the local media spotlight.
There's another reason why the CEO's job is Fields' to lose: If passed over, he would almost surely leave the company for less grueling work closer to home. There is less chance of losing Hinrichs. He could plausibly be promoted to Fields' old job and told to wait his turn for the next opening.
So assuming Fields is first in line to be Ford's next CEO, how does the company prepare the world for this transition?
It could learn some things from General Electric's (GE, Fortune 500) Jack Welch. Six years before he retired, Welch started a succession planning process, outlining the skills and characteristics that a CEO should have and letting it be known who the three leading candidates were to replace him. When the announcement was finally made in 2000 that he would be succeeded by Jeffrey Immelt, there was little surprise.
Ford and Mulally's job is much easier. Since there is no real horse race, they mostly need to give Fields public exposure to make him feel more comfortable and to give outsiders a chance to size him up. That will require the energetic Mulally to back off a little. But unless he intends to remain CEO for life, Mulally surely will be motivated to give his successor a helping hand and thus add to his already superlative record at Ford.