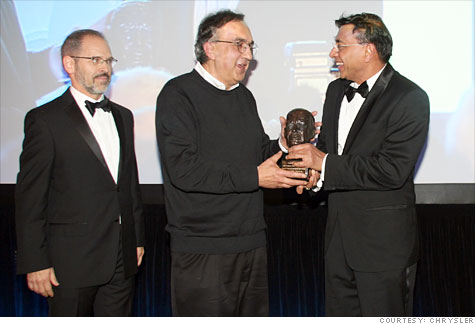 Sergio Marchionne's black tie attire
FORTUNE -- While the rest of the automotive world was wrestling this week with the question of who would succeed Alan Mulally as Ford CEO, Fiat-Chrysler CEO Sergio Marchionne slipped into New York City to accept an award from a group promoting international business -- and made some news of his own.
The event was a black-tie gala held at the New York Public Library, but despite being the honored guest at the glittering event, Marchionne remained loyal to his sartorial signature. Amidst the pomp, he showed up in a black gingham button-down shirt, baggy black sweater and black slacks. And oh yes, he needed a haircut.
Marchionne has an acute understanding of his public persona and he explained himself to his audience this way: "I should be feeling underdressed, but I don't. I read the invitation carefully, and it states clearly that attire is 'black tie or national dress.' Some of you know that I am spending a lot of time travelling, at night one might add, so that I do not waste working hours. The price I had to pay for this vagabonding around is to strive for simplicity in everything else I do. Attire choice had to go, and replaced by a monastic monochromatic theme: Black on black."
The contrast with Mulally is especially dramatic. Marchionne is the ying to Mulally's yang: the subversive rebel vs. the Eagle Scout. Both men were interviewed on television this week; true to form, Mulally blandly revealed nothing about the Ford (F, Fortune 500) succession or his own retirement plans. "It's not true," Mulally said when asked by Fox News if he was leaving. "But I can understand people following Ford closely because it's so important and its success is so important to the United States." Meanwhile, the always-tangy Marchionne held forth on a variety of topics, ranging from the future of the euro to the timing of a Chrysler IPO.
It is a fascinating performance to watch because Marchionne has created an image for himself that is unique in the auto industry. What other CEO can you think of who likes to characterize himself as a "simple, homeless, ever-wandering metal basher?" The image consists in equal measure of disarming humor, laser-like clarity, and brutal honesty. You see it in his now-classic greeting to a Chrysler executive whom he was meeting for the first time, quoted in Bill Vlasic's Once Upon a Car. In lieu of an introduction, Marchionne said, "I know who the f*** you are. Sit down. Let's eat."
The principles of his management style are simple: He values merit over rank, excellence over mediocrity, competition over insularity, and accountability over promises.
12 great cars (you can't get in the U.S.)
In time, Marchionne's work in pushing together Chrysler and Fiat into a viable global competitor will be the stuff of business school case studies, especially when contrasted with the ham-fisted efforts of Daimler-Benz.
Marchionne's vision for Chrysler-Fiat is coming into focus. He has integrated the management of the two companies with the appointment of a team of 22 executives -- all of whom report to him, naturally -- and begun to hint at a rationalization of the combined companies' multiple brands and a strengthening of its core assets.
Marchionne believes that his future belongs to two brands -- Jeep and Alfa Romeo -- that he is prepared to take global. Chrysler and Lancia will remain local brands, anchored in the U.S. and Italy, respectively. And Dodge likely withers away. Marchionne has already separated out its pickup trucks from the new Ram brand, and given sole rights to Chrysler for the minivan now marketed as the Dodge Caravan.
Recent economic events aren't making Marchionne's Chrysler and Fiat revamp any easier. In his New York speech, he characterized the deregulation that led to the U.S. financial crisis as "having brought us too close to Armageddon," and added that the creation of the euro "has the potential to finish the job." He blames the two events for having created "the age of outrage."
But he's coping. Marchionne told Reuters this week that European economic uncertainty has caused Fiat to delay plans for capital investment and that he is waiting for "a better line of sight" before resuming its usual product launch cadence. But he said there is a better than even chance that the euro will survive the current crisis and that international markets should begin to stabilize in the next month or two.
Finally, Marchionne is trying to provide some clarity about his retirement plans. He's announced that he plans to stay until 2015 or 2016, and that his successor will likely come from inside the company. Mulally and Ford could put an end to a lot of speculation and learn some lessons about leadership and openness from him.