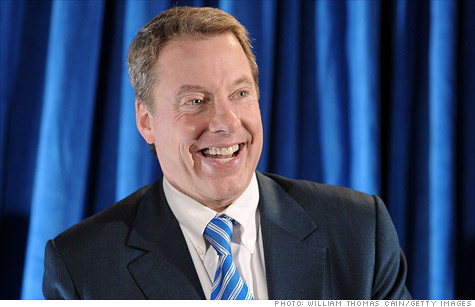 FORTUNE -- This will be an especially buoyant Christmas season for Bill Ford, executive chairman of Ford Motor, and he radiated every bit of his good fortune when he appeared at a Ford holiday party in Manhattan this week. He's pleased with plans for CEO succession, he's restored the dividend on Ford stock for the first time in five years, and the automaker is making progress on the environmental front, repurposing an old assembly plant as an alternative energy park. Even the Detroit Lions, long the doormats of the National Football League, are enjoying a winning season.
In a conversation, Ford was quick to put to rest published reports about who will succeed CEO Alan Mulally, now 66, whenever he retires. Ford emphatically insisted that, while the board of directors has an obligation to look for the best available candidate, they have not been looking outside the company and have not retained any search firm to do it for them. He specifically denied that the names of two former Ford executives mentioned in news reports, Hyundai Motor America president John Krafcik and Phil Martens, president and CEO of Novelis, had surfaced in any capacity. And while he didn't offer any comment on the identity of internal candidates for the CEO job, he was accompanied to the event, apparently happily, by longtime associate Mark Fields, who over sees North and South America for Ford.
As for the dividend, its restoration is a source of considerable pride for Bill Ford. Among other things, it solidifies his standing with the sometimes fractious Ford family. While the family controls the motor company with 40% of the voting stock, they depend on the dividends for income from the shares. Even at a nickel a share, the level the dividend was restored at, it will return some $3.5 million quarterly to family members, according to an estimate by the Detroit Free Press. Bill Ford himself, according to the Free Press, is due for $979,000 in dividends, every three months.
While Ford (F, Fortune 500) stock has performed heroically in recent years, its return pales in comparison with the investment that Bill's father made in the Lions nearly 50 years ago when he purchased a controlling interest for $4.5 million. The value of that investment, climbed towards $1 billion this week when the NFL negotiated a new $28 billion television deal. Bill praised the team's newly businesslike management and said he checks in with developments at the end of the day while he is commuting from his office in Dearborn to his home in Ann Arbor.
Bill Ford came to New York to mark the relaunch of Lincoln as a luxury brand. He's seen this play before. Lincoln has never been an easy fit for a company that was founded on the proposition of providing transportation for the masses, and Ford has struggled to find a rationale for it. Rehabilitation efforts have been numerous, including a widely ballyhooed effort in 1999, when product specialist Wolfgang Reitzle was wooed from BMW and handed a blank check to reinvent Ford's luxury brands. Reitzle left the company in 2002, and his plans were never realized. Lincoln has struggled since then, selling upscale versions of Ford models to a slowly disappearing market of aging customers.
As conceived, the new Lincoln will also be selling modified versions of Ford models, but executives insist that it will be different this time. Similarities between the two brands will be indistinguishable and Lincoln will get a number of exclusive design and engineering features. In addition, Ford is doing some fresh thinking about luxury marketing, such as engaging an advertising agency that has its roots in New York instead of Detroit. The pressure is on. Given the speed of advances in upscale brands, an executive conceded this could be Lincoln's last shot at elite status.
While Lincoln remains a work in progress, Bill Ford can bank on the launch of two more predictability popular products in 2012: the Ford Fusion mid-size sedan and the Ford Escape crossover vehicle. Despite reaching the ends of their production runs, both vehicles have sold strongly -- more than 225,000 units apiece through the first 11 months of the year. Their debut will mark the all-but-complete revamping of the Ford product line, putting it in the best competitive position it has enjoyed in years.
In the past, the auto industry has lived through violent cycles of boom and bust, and Bill Ford has endured several of them, most notably during his tenure as CEO from 2001 to 2006. Physically, at least, the stress did not leave any permanent scars; at 54, he retains the fresh and energetic air of a much younger man -- boyish, for lack of a less-overused term. He intends to stay that way. Bill Ford says he is taking the advice of friends and enjoying the good times for as long as they last.