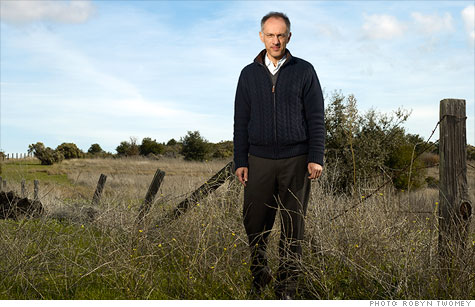 Michael, Moritz, Silicon Valley's VC visionary, could have taken a different career path without a little help from his friends.
FORTUNE -- "Steve Jobs told me that you should never go to a meeting or make a telephone call without having a clear idea of what you're trying to achieve. And Don Valentine, the founder of Sequoia Capital, told me to trust my instincts, which lets you avoid getting dragged into conventional thinking and trying to please others.
"But the best advice I ever got came from Bill Deedes, who was editor of the Daily Telegraph and a grand old figure of Fleet Street. Prior to leaving college, my heart was set on working on Fleet Street. I went to see Bill one rainy day in his office. He said if he were in my shoes, he would go to America. That adjusted my compass. After that, I was hell-bent on going. At that point I would barely have been able to pick California off a map, and I certainly had no idea about anything called venture capital. I've worked for the past 30 years in Silicon Valley. There is nothing that comes close to this place. That's not an indictment of Britain, just a reflection on the wonderful benefits of living in America."
Michael Moritz
Age: 57
Job Experience: Sequoia Capital managing partner; current board member at LinkedIn (LNKD), Kayak, and Green Dot (GDOT); former board member at Google (GOOG, Fortune 500), Yahoo (YHOO, Fortune 500), and PayPal; former journalist and author
Claim to Fame: Legendary Silicon Valley dealmaker who backed investments for Sequoia in Yahoo, Google, PayPal, Zappos.com, and many others; correspondent for Time (owned by the parent of Fortune's publisher) early in his career, covering Silicon Valley; wrote 1984 book The Little Kingdom: The Private Story of Apple Computer