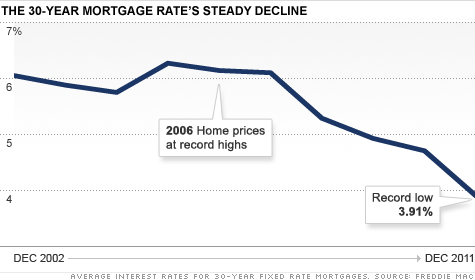 NEW YORK (CNNMoney) -- Happy holidays, homebuyers! You just got a very nice present.
Mortgage rates have hit record lows, with the interest rate on a 30-year, fixed-rate loan, the most popular choice of homebuyers, averaging 3.91% this week, according to Freddie Mac's Primary Mortgage Market Survey.
That's down from 3.94% last week, and is the lowest in the 40-year history of the survey.
Rates have fallen 0.9% since the beginning of the year. For a homeowner with a $200,000 mortgage, that means a savings of $1,200 a year, said Frank Nothaft, Freddie's chief economist.
With rates at or below 4% for the last eight weeks, home sales are getting a boost, Nothaft added. Existing homes sold at their fastest pace since January last month, according to the National Association of Realtors, and new home sales edged higher in November as well.
Meanwhile, rates for 15-year mortgages remained unchanged, matching last week's record low of 3.21%.
"We've entered the holiday lull with nothing much happening to change rates one way or the other," said Greg McBride, senior financial analyst for Bankrate.com.
Mortgages should remain affordable deep into 2012, he added. As the European debt crisis and sluggish U.S. economy keep investors focused on finding safe havens for their cash, demand for U.S. Treasury notes should remain high. That drives down their yields, which mortgage rates closely track.
"For well-qualified buyers, interest rates should be no impediment to home buying in 2012," said McBride.
Refinancers also are pouncing on the bargain rates.
According to the Mortgage Bankers Association, about 80% of all mortgage applications last week came from existing homeowners looking to refinance their old loans into more affordable ones.
McBride even expects that lenders will ease up on borrowing requirements -- marginally -- in 2012.
"Instead of requiring a 740 credit score for the best rates, lenders will dip their toes into 720 waters," he said.
That is, however, just a baby step towards making mortgages much easier for borrowers with less-than-perfect credit histories to obtain.
"We're not going back to the Wild West days of the boom," said McBride.