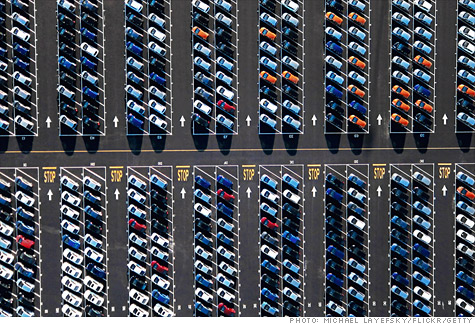 FORTUNE -- Every year brings new uncertainties to the car business, and 2012 will be no different. The devil will be in the details. With the U.S. economy expanding, pent-up demand growing, and the Detroit Three earning, the survival of the industry is not in question so much as is its composition. Will buyers be looking for big trucks or small cars, import brands or domestics, gasoline-power or electricity?
Here are ten questions -- along with some possible answers -- that will churn the auto world in 2012:
1. Will the Detroit Three begin losing share again to the imports?
Domestic market share was stable in 2012 with General Motors (GM, Fortune 500) and Chrysler gaining a bit and Ford (F, Fortune 500) losing a smidgen, but the good news may be only temporary. Detroit benefited from an unusually bad year for the Japanese, with both Toyota and Honda losing sales in a rising market. But other imports keep getting stronger. Hyundai and Kia are now the sixth and seventh most popular U.S. brands, while Lexus outsells Buick, Cadillac, and Lincoln. Nissan has targeted a 10% market share, which would put it in fourth place in U.S. sales. Moving up quickly is Volkswagen, which, if it achieves its goal of 800,000 car sales, would become as large as Dodge and Jeep combined are today. Detroit will have to drive fast just to stay even.
2. Can Toyota reload?
Flattened by disasters natural (earthquake, tsunami, floods), operational (recalls), and financial (the expensive yen), Toyota suffered a landmark annus horribilis in 2011. Naysayers are insisting the former global sales champ has fallen back in the pack. Perhaps. President Akio Toyoda forswears any of the "we're Number One" talk that got the company in trouble the first time, but he isn't holding back; the automaker has announced plans to boost production on the strength of new models by an aggressive 20% in 2012.
3. Can Chrysler repeat its success?
Chrysler's Phoenix-like rise from the ashes was the feel-good story of 2011. Led by Jeep, its sales rose 25% through November, outpacing the market's overall 10% gain. Credit the surge to some smart updates for the existing product line and some attention-getting advertising. But new model launches will be scarcer in 2012, competitors will be watching more closely, and CEO Sergio Marchionne will likely be distracted by problems in Europe at Fiat.
4. Will Americans ever get comfortable with small cars?
Full-size pickups and mid-size sedans still dominate the best-seller list despite newly competitive small entries like the Chevy Cruze and Ford Focus. Meanwhile, the high-profile launch of the Fiat 500 minicar fizzled. Rising gasoline prices and federal regulations ensure that customers will have to think small someday, but nobody seems to be in a hurry to start.
5. Who gets frozen out when China cools off?
GM and Volkswagen are the two biggest Western car producers in China, but German luxury brands rely on China for a higher proportion of their sales. Audi, China's luxury car leader, sells more than twice as many cars there than it does in the U.S., while BMW sells nearly as many. As the world's second-largest market for upscale cars, China could upset expansion plans for top-shelf brands if it stops growing at the rate of past years.
6. Whither Opel?
GM, which tried to sell Opel in 2009, is now attempting another restructuring, and the job won't be easy. The European financial crisis has flattened car sales, and chronic industry overcapacity could reach 20% next year. With a market share of around 8%, Opel is not operating from a position of strength, and its blurry brand image makes it vulnerable to being steamrollered by Volkswagen. Vice-chairman Steve Girsky, an Opel supporter, has been dispatched to fix the GM unit by cutting costs and better integrating it into the automaker's global operations. As if deteriorating European economics weren't bad enough, Girsky is likely to face resistance from a wounded workforce that has been battered by past cutbacks.
7. Will the 2013 Ford Fusion be car of the year?
Already a perennial best seller, the Fusion gets a top-to-bottom overhaul for 2013 and moves to a global platform. Ford is being tight-lipped about details prior to the car's unveiling in early January, but in addition to dramatic styling, the Fusion is expected to set new standards for fuel economy with an unprecedented array of powertrains. It could be vying with the revamped BMW 3-series for end of the year honors.
8. When will Alan Mulally retire?
Ford's CEO could go out with the Fusion launch providing a ringing affirmation of his One Ford strategy but there are no signs the still-energetic 66-year-old will do so. With its history of unplanned management changes, Ford has little experience with peaceful transitions and seemingly has no plans to provide a Mulally successor an extended break-in period. Given Mulally's standout performance and his impact on Ford's stock price, the abrupt change could shock investors.
9. Will Tesla and Fisker become GOP punching bags for taking federal money like GM and Solyndra?
The Obama administration lavished Energy Department loan guarantees that total more than $1 billion on the two startups for the development and production of rechargeable cars. Republicans are complaining the money was misspent. Both companies will be in launch mode this year with new models. If either one falters, the name-calling and finger-pointing will begin in earnest.
10. Will Mission Impossible: Ghost Protocol give BMW a boost?
After sprinkling its cars through four James Bond movies, BMW puts IM agent Ethan Hunt in the driver's seat for the latest installment of the action series. Star billing goes to the i8, a carbon-fiber battery-powered concept car with butterfly doors. Audiences seeing this and other models featuring the blue-and-white spinning propeller in glamorous settings are expected to imitate Tom Cruise by driving a BMW. Presumably, they won't trying to imitate Cruise in other ways -- like trying to scale the Burj Kakifa in Dubai.