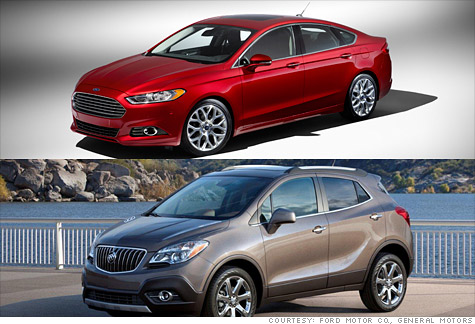 Hit: Ford Fusion. Miss: Buick Encore
FORTUNE -- Detroit's big auto show that opened on Monday is being called a big success. Exhibits at the show went through a model change and are all-new; more new cars and concepts are being unveiled for the first time; and statuesque female presenters, deemed to be in poor taste during the recession years, have returned in numbers to display stands to attract male buyers.
But just as in life, Detroit has not been a win-win for everyone. The auto show is a demanding environment with thousands of journalists on the ground looking for stories, and hundreds more analysts and insiders available to generate spin and pass gossip. Mistakes in strategy, sensibility, or execution are inevitable in the hothouse environment. Herewith, some notable hits and misses from the 2012 North American International Auto Show:
Detroit
Hit: The weather. Unlike past shows held in bitter cold and blinding snowstorms, Detroit was baked in sunshine and above-freezing temperatures. Everybody noticed and applauded the difference, and the show activities ran more smoothly.
Miss: Despite the balmy temperatures, there was no avoiding the evidence that the improving fortunes of the domestic automakers have not radiated to the city at large. Surrounding every glittering new casino or office building were vacant land and surface parking lots -- stark evidence of slack economic activity and a declining population.
Cobo Center
Hit: The city has embarked on a major upgrade and expansion of its convention center, and in the interim, it has upgraded service in the existing hall. Most notable was the improvement in the quality of the meals served at events; instead of cold cuts and cheese cubes, attendees could sample fresh salads, hot chicken pot pie, and home-baked-style cookies.
Miss: The restrooms. Despite apparent efforts to keep up with heavy usage during the show's hours, tile floors were frequently awash with water, waste bins overflowed, and paper towels were in perpetual short supply.
Honors
Hit: The 2013 Ford Fusion, unveiled at 8 a.m. on the first day of the show, was widely praised for its surprising selection of engines -- five, including a hybrid and a plug-in hybrid -- that will have fuel economy ratings of up to 100 mpg.
Miss: The 2012 Ford Focus, which was passed over for North American Car of the Year recognition in favor of Hyundai's Elantra and whose sluggish sales are being surfaced in news reports.
Engineering
Hits: The Cadillac ATS, built on an exclusive new lightweight chassis that, with rear-wheel-drive and just 3,400 pounds of avoirdupois, can go head-to-head -- at least on the spec sheet -- with the BMW 3-series.
Miss: The Buick Encore, built on a chassis that it shares with the Chevrolet Sonic, revived memories of earlier Buicks that borrowed engineering from other brands as it moved its model offerings to lower price points. Can anyone say "Skyhawk," "Rendezvous," "Rainier," or "Terraza?"
Parties
Hits: Cadillac threw a splashy event worthy of the 00's for the unveiling of the ATS on the 11th floor of the spacious College for Creative Studies Taubman Center. The A-list crowd supped on small plates ranging from lobster concoctions to sausage rolls, while North American president Mark Reuss introduced the ATS and then amiably withstood a crush of would-be interviewers.
Misses: Volkswagen, which aims to be the largest auto company in the world, tried to cram the largest number of guests into the smallest possible space when it hosted a late-night event in a noisy, steamy downtown saloon. The scene outside was equally discordant. Even though VW has called off its planned merger with Porsche due to legal problems, a fleet of Panameras parked at the door looked shockingly out of place in the shabby neighborhood of abandoned storefronts.
Most surprising product trend
Hits: Luxury SUVs Blame it on the success of the Porsche Cayenne. Luxury and luxury-aspiring manufacturers continue to roll out SUVs, and the bigger they are, the better. Maserati displayed a version of its new Kubang, based on a Jeep Grand Cherokee and built in Detroit, of all places. Bentley declared its intention to enter the fray ASAP with its contender, which will have three rows of seats. Meanwhile Infiniti showed off its all-new JX35 that features three rows of seats plus a backup collision intervention system. It goes on sale this spring. Finally, Lexus unveiled a revised version of its durable LX 570 with seating for eight. Anybody for a safari -- or a trip to the shopping mall?
Misses: EVs Nearly every manufacturer had an electric vehicle to introduce, but the applause was muted, and the buzz was lacking. Slack sales of the Nissan Leaf and the Chevy Volt have chastened enthusiasts. Like the showbiz ingénue who slumps after her first big hit, EVs may have suffered from premature celebrity and are not quite ready for prime time.
Management
Hits: Overseas top executives made a strong showing in Detroit, with VW's Martin Winterkorn, Daimler's Dieter Zetsche, Fiat-Chrysler's Sergio Marchionne, and Nissan-Renault's Carlos Ghosn all submitting themselves to print journalists at formal question-and-answer sessions. The formats allowed for more thoughtful responses and generated some real news, such as Marchionne speculating on another wave of industry consolidation in Europe with the creation of a "second VW group" to compete against the Wolfsburg giant.
Misses: Ford's Alan Mulally and GM's Dan Akerson were less available, appearing mostly in messy scrums after product reveals, which more resemble piles of linemen falling on a fumbled football than anything like the communication of useful information.
Attendees
Hits: The power players at this year's show -- the superbuyers -- demonstrated their clout by staying mostly undercover. They are the heads of the big publicly owned dealer groups -- AutoNation's Mike Jackson, PAG's Roger Penske, and Group 1's Earl Hesterberg -- who buy cars in the tens of thousands annually and wield enormous influence in the design, marketing, content, and pricing of new models.
Misses: Every year, there is a new crop of self-appointed analysts trying to join the ranks of those whose opinions are quoted in newspaper articles and digital dispatches, only to discover there is a difference between having an opinion and having an informed opinion.
Social rituals
Hits: Mulally's bro hug with Ford Executive Chairman Bill Ford at the Fusion introduction. In its transparent demonstration of confidence, support, and yes, affection, it seemed to symbolize the open style of leadership that Mulally has brought to the company and that has led to its success.
Misses: Nearly everybody else.