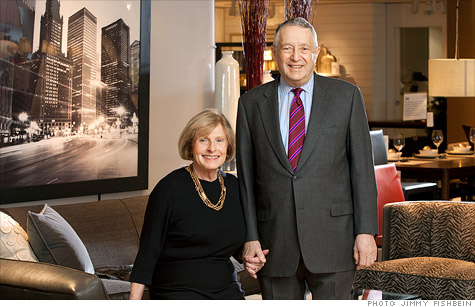 Crate & Barrel founders Carole and Gordon Segal: "The biggest challenge," recalls Gordon, "was learning how to delegate."
FORTUNE -- Crate & Barrel founders Gordon and Carole Segal, both 73, raised $17,000 to open their first store in Chicago in 1962. Their concept of offering chic, contemporary designs at affordable prices became a company with 115 stores and $1.4 billion in sales. Now owned by the Otto Group, which is based in Hamburg and owns retail and financial services firms, the company is ranked No. 3 behind Bed Bath & Beyond (BBBY, Fortune 500) and Williams-Sonoma (WSM) (see chart) in the home-furnishings retailing industry. As for the Segals, it's the end of an era. In 2012, Gordon will step down as a director. Fortune talked with Gordon and Carole about the company they created and why they finally decided to call it a day. Edited excerpts:
Gordon Segal: Carole and I met at Northwestern University, and after we graduated, I went to New York. I tried to work in the restaurant business for six months and didn't make enough to live on. So I came back and went into real estate. Carole became a first-grade schoolteacher, and we got married in June 1961.
Carole Segal: We had registered at Marshall Field, but the things we really liked were too expensive for our family and friends.
Gordon: When we went to the Caribbean for our honeymoon, we found a couple of stores in the Virgin Islands with Scandinavian designs and good prices. One day I was washing the dishes we had bought and said, "There's got to be other young couples with good taste and no money like us. Why don't we open a store?"
Carole: I thought it was an interesting thing to explore. So we spoke with the Scandinavian trade commissioners in Chicago, who would bring us all the catalogues, and we got samples from traveling salesmen.
Gordon: We were 23 years old and knew nothing about retail. I'd taken accounting and finance classes but had always worked in my dad's restaurant. Carole loved to entertain and had a great sense of design. I figured we had to raise $20,000 to get started. From savings and wedding gifts we had $10,000. I went around trying to convince people that for $10,000, they could own half of this great idea.
Carole: My dad wanted to buy a car for my graduation, and I said, "No, thank you. I'll take the money."
Gordon: My dad finally lent us $7,000, so for $17,000 we opened our first store on Dec. 7, 1962. It was in an old elevator factory in Chicago's Old Town. We couldn't afford new plaster for the walls and fixtures, so we bought lumber to put on the walls to make them clean, and put nails on them to hang things on. We hand-sanded the floors ourselves.
Carole: We got things from Sweden in new pine crates, so I flipped them and made them display fixtures. Other things came in barrels from France, and we used those. I was on the floor setting up when a woman came in and asked, "What are you going to name this place? Why don't you call it Barrel & Crate?" I told Gordon, "I like Crate & Barrel."
Gordon: We had forgotten to buy a cash register, so we used a cigar box and wrapped merchandise in newspaper. We didn't know how to price things. Later we found out that we'd priced things at cost because one of the merchandisers was too busy to invoice until after Christmas.
Carole: Our whole philosophy was, "What do we have to lose?"
Gordon: The first month was great. I figured since we did more than $8,000 in December, we'd do the same every month. I'm Jewish and never knew Christmas was the big retail season. February 1963 was the snowiest month we'd ever had, and we did $2,000. I thought we'd never survive. Then spring came, business built up, and traffic got better. That first year, we made $96,000.
Carole: Then we lost the lease because a landlord's girlfriend wanted the space to open a candy store. Chuck Dolan, one of our two landlords, had partial interest in a piece of property down the street and couldn't find the heirs to the rest of the title.
Gordon: From my real estate experience, I found the lost titleholders and was able to keep the property from going into foreclosure. We got a $65,000 bank loan to build a store on the land, which we paid off in 10 years. We paid rent to the landlord and eventually bought the building.
Carole: In the beginning we had one salesperson. If we were on a buying trip, she'd say, "The kids aren't here."
Gordon: Together we went to Europe in early 1964 and found artisans and factories that offered beautiful ceramics and stainless steel products. Every year we would go back and find new vendors. The deutsche mark was 25¢, so you could buy something beautiful for a low price.
Carole: When Martin Luther King and Robert F. Kennedy were killed in 1968, the city burned. We decided to sign on a northern suburban location in Wilmette, so as not to have all our eggs in one basket.
Gordon: Wilmette was the first store where we put furniture and housewares together. Then we bought a furniture store in Boston's Harvard Square. It was our first attempt to expand outside Chicago.
Carole: In 1970, I stopped working in the stores and raised our three children. I continued serving as Gordon's adviser at home.
Gordon: When we opened the first big store on Michigan Avenue in 1975, we felt we were on our way. When Design Research, one of our competitors, went bankrupt, we took over their two stores in Boston. So in 1979, we had Chicago and Boston.
Carole: We've never grown rapidly with a lot of stores. The culture of the Crate was never about expansion and size. It was about quality, customer satisfaction, and being proud of what we created. That's why we never went public, because venture capitalists are bean counters. The demands on you are very different when you have stockholders.
Gordon: The biggest challenge was learning how to delegate to others. Any retail store is a reflection of your style and taste. Being able to find people to educate and execute even 90% of what you would do was very difficult. I never thought we'd go past three or four stores because our personalities are to be very involved. Fortunately, I joined the Young Presidents' Organization and learned how to delegate. In 1998 we sold the majority stake in the company to the Otto Group, the largest direct-marketing company in Europe. We didn't have strength in cataloguing or the Internet, so we would either have had to go public or sell to other retailers.
Carole: When you sell something or go public, you're giving yourself a time limit on when you're going to be in charge of everything.
Gordon: I stepped down as CEO in 2008. I was nearly 70 years old and I don't think transition happens by your going out on a gurney. The energy to travel and visit different stores was taxing. It was a good time to pass things on.
I'm going to leave the board soon. I'll be finding young entrepreneurs to back, and other things. One of the hardest things to do is prepare for succession and step down. But the company is 50 years old [in 2012], and when you have 7,000 employees, you're responsible for a good transition when you leave. It's been a fun run. We're proud of our stores, and our people.
Carole: We always get a thrill when we see someone walking through the airport with a Crate & Barrel bag.
Our advice
Consistency is key. Keep a consistent style of product. From tabletop to cloisonné to lamps, we're known for clean, contemporary, good-value products.
Mentor people so you can replicate yourself. We mentored a lot of people and taught them why we loved the business. Now our stores in Dubai and Canada look as fabulous as our stores in Chicago.
Practice risk management. Look at products with consumer safety in mind. Whether it's dealing with lead in plates or the dye in pottery, you have to be prepared for the worst.