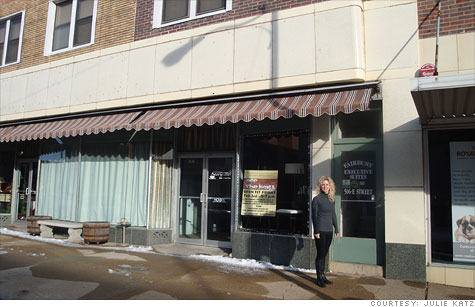 Julie Katz, a hotel owner in Fairbury, Neb., says her business will suffer now that the Obama administration has rejected a proposed expansion of the Keystone XL pipeline.
NEW YORK (CNNMoney) -- The hopes of some small business owners in the Nebraskan towns of Fairbury and Steele City were crushed when the Obama administration rejected a proposed expansion of the Keystone oil sands pipeline.
Extending the Canadian pipeline 1,179 miles to the area promised both towns another chance to bounce back from the ongoing economic crisis.
In 2010, when the first line was built, waves of engineers and construction crews shopped at stores, ate at restaurants and stayed at hotels. Julie Katz, owner of the Fairbury Executive Suites, saw her rooms fill up. And she was hoping the extension would help her establishment once again during the slow winter season.
"It's crippling," she said. "This is politics, and we are paying the price. There are some mom-and-pop stores in these small towns that will not survive through this political season, because they have built a lot of their hopes on an economic boom coming through this area again."
That expansion was expected to come in the form of TransCanada's (TRP) Keystone XL, which would carry crude oil from Canada to the U.S. Gulf Coast.
President Obama rejected the proposal Wednesday saying that there was not enough time to assess the pipeline's impact on health and the environment.
But throwing cold water on the pipeline's extension, as well as the construction of a pipeline pump station just east of Steele City, has killed Margo D'Angelo's expectation to fill her 60-person capacity restaurant the way she did in 2010. Back then, five dozen construction workers would file into the one-story Salty Dog Saloon for lunch every day, all wearing bright green vests and brown overalls as they bit into half-pound pork burgers.
"It's better income all around, not only for me but hotels, car dealerships and repair shops," she said. "If other people are doing well, then I do well."
Aside from the local post office, the Salty Dog is the only business along the long, snow-draped stretch of road just north of the state's border with Kansas. With so little business now, D'Angelo expects to keep her daytime staff to a single cook and waitress. She said the pipeline would have allowed her to double her staff.
Katz said her hotel benefited the last time pipeline workers were in the area. The recession in 2009 drove her revenue down 30 percent to $70,000, as seven of her eight rooms went unused for months. But the nearby project completely filled her hotel for half of 2010. She ended the year with $125,000 in gross revenue.
Those small business owners similarly uplifted by the project grew to appreciate the sight of trains filled with pipes heading north along the tracks that cut through Fairbury. Katz said it was a reminder to all that the line from Canada was being constructed and the wave of business would come again.
Some people would even yell, "pipes!" recalled Katz.
Sharon Priefert, who heads Fairbury's chamber of commerce, said the area needs a boost in its economy.
"We're in an area where there's just not a lot going on right now," she said. "We have a farming community, but that doesn't necessarily support restaurants and small retail businesses."
But some fear a pipeline burst would allow oil to seep into the Ogallala Aquifer, a massive water table beneath the Great Plains and one of the largest in the world. That would taint a source relied upon by many, including Adam Hintz, co-owner of Meadowlark Coffee and Espresso in Lincoln, Neb. He noted that the state's agricultural economy relies on water, also a main ingredient in the dark brew he serves customers everyday.
"We use water in the majority of what we serve. It needs to be protected. If people are worried it'll hurt jobs, hurting our water system will take away a lot of jobs -- especially agricultural jobs and even service industry jobs," Hintz said.
Any accidents would force shops like his to ship in filtered water, pushing up prices and hurting his business, Hintz said. That's why he welcomed the administration's move.