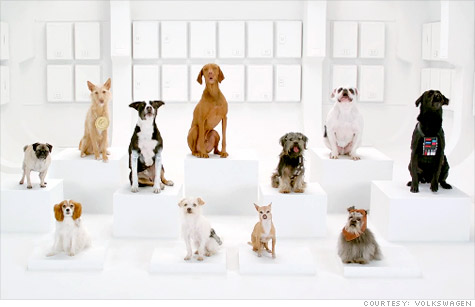 VW's "Bark Side" Super Bowl ad
FORTUNE -- January, the longest month of the year, is winding to a close and that means it is time for MotorWorld to start handicapping the Super Bowl. No, not the Patriots vs. the Giants -- the Super Bowl of auto advertising. It's Volkswagen vs. the rest of the auto industry.
VW may only sell one-fifth as many cars and trucks as Chevrolet, but when it comes to car commercials it runs well ahead of the pack in popularity and buzz without any bombast or boasting. Take last year's Super Bowl spot, "The Force." It showed a young boy no taller than a tailpipe in a Darth Vader costume unsuccessfully testing his supernatural powers until he fires up the family's new Passat (with an assist from his keyfob-holding father).
It placed fourth on a list of 50 all-time best Super Bowl car commercials compiled by thebleacherreport.com, giving VW a total of two all-timers -- as many as all the other automakers combined. (Its other honoree, 2001's "Big Day," finished 19th).
For the 2012 follow-up to "The Force," VW has produced "Bark Side," another Star Wars-inspired creation. Eleven -- count 'em, eleven -- dogs of different breeds bark out a doggy version of John Williams's "Imperial March". (One sharp-eyed observer pointed out that a German Shepherd is not among them). It hasn't even aired yet, and the teaser has been seen more than five million times.
Is all this really necessary? A 30-second spot on this year's Feb. 5 Super Bowl is said to cost as much as $3.5 million -- the price of 35 new Mercedes-Benz SLs or 175 Hyundai Elantras, this year's North American Car of the year. Yet hat hasn't stopped nearly a dozen brands from anteing up for roughly ten minutes of spots. That's a potential tab of $35 million.
Last week, Hyundai made a big splash when it snagged a 60-second spot for the sought-after slot just before kickoff. Besides guaranteeing high viewership in case the game turns one-sided, Hyundai wanted the early slot to serve as an appetizer for two more Hyundai commercials later in the show. Hyundai marketing VP Steve Shannon was quoted in Automotive News as saying he hoped the pre-kick spot would plant a seed about Hyundai in viewers' minds, the better to help its in-game ads make a more significant impact.
After an absence during hard financial times, General Motors (GM, Fortune 500) returned to the Super Bowl last year, and it has invested in five 30-second spots this year, more than any other automaker. Chevy gets three of them. Chevy spots are mostly notable for aiming straight at the heart, avoiding the whimsy and ironic self-awareness that seems to be integral to Super Bowl Sunday. To break the mold, GM solicited submissions from independent filmmakers in 32 countries. The winner was "Happy Grad," produced by a 26-year-old from Long Island: The excitement quickly ebbs for a new college grad who finds out that the yellow Camaro convertible parked in front of his house belongs to a neighbor and is not actually his graduation present. He's getting a mini-fridge instead.
There is also fair amount of gamesmanship involved in leveraging Super Bowl visibility. After scoring big with its two-minute "Imported from Detroit" epic in last year's game,
Chrysler has been downplaying expectations for this year's commercials. In an interview at the North American International Auto Show in Detroit last week Chrysler's CEO Sergio Marchionne said the 2012 ad "will cost us more money" and "will not be remotely as successful as the other one." We'll see if Marchionne is sandbagging.
GM raised the competitive stakes even higher this year. It was reported by Automotive News that its marketers thought about buying product placements for GM cars in the commercials of other non-car advertisers. It was a clever idea, but it ran afoul of rules regarding adjacencies for competing products, sub-leasing of commercial time, and network approval. GM did succeed in another gambit -- buying search terms in hot ads and linking them back to GM, according to the report. Last year, for instance, GM bought the term "Darth Vader" before the game so it could piggyback on the popularity of the VW ad.
One auto company that makes a point of NOT advertising on the Super Bowl is Ford (F, Fortune 500). Marketing boss Jim Farley is a big fan of social media, and believes that a well-known brand like Ford is better off directing its ad dollars to smartphone and on-line sites like Facebook. Perhaps he will change his mind if the Ford family-owned Detroit Lions ever make it to the big game.
Is Super Bowl money well spent for any of the automakers? The answer appears to be yes. The broadcast provides an opportunity to reach an enormously wide audience -- more than 100 million people -- that is ideal if you have an equally-wide message to get across. It does seem odd to see $50,000 cars sold in the same space as beer, soft-drinks, and snack foods, but this is an audience of predominantly young men who are famously difficult to reach with most traditional media. One ad expert compared the reach of a Super Bowl ad to 250 ordinary TV commercials.
It's the Super Bowl of advertising, too, and the arena gives creative types a chance to strut their stuff. After reviewing ads for this column, I decided my all-time favorite is another VW commercial from last year's game that promotes the launch of the 2012 Beetle by using a CGI black bug to duplicate the same dynamic tricks usually performed by "test drivers on closed courses."
Clever, witty, and cool enough to make fun of itself -- it's everything a good ad should be and helps explain why VW consistently ranks among the industry's most admired brands.