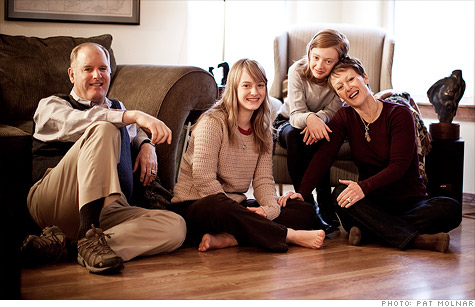 Tom and Laura DiSilverio, 53 and 49, Colorado Springs, Colo. Government intelligence analyst, mystery novelist
(MONEY Magazine) -- We spoke to five families who face challenges that could keep them from meeting their financial goals. With a few tweaks to their game plan, they can get back on course. Here, the DiSilverios' story -- and the recommended financial fixes.
Laura DiSilverio knows how to get to the bottom of things. She spent 20 years as an Air Force intelligence officer before retiring in 2004 to write mystery novels.
Today Laura is flummoxed by the job of managing 11 investment accounts. She and her husband, Tom, are unsure whether they're on track for him to retire in 15 years and help pay for college for their daughters, Lily, 14, and Ellen, 12. As Laura puts it, "Spying was easier."
Fortunately Laura is assured of having $36,000 a year in an Air Force pension. (Tom will qualify for $18,000 at age 60 for being a reservist.) However, they estimate needing about twice that once they retire.
Their retirement accounts are 75% in stocks, with the rest evenly divided between bonds and cash. The DiSilverios' 529 college savings plans, 100% in equities, have been on a roller-coaster ride for the past few years, ending up about even. "We might as well have hidden the money in a mattress," Laura says.
Their finances
Income: $163,000
Assets: $428,500 in retirement savings, $38,000 college savings, $34,000 cash, $130,000 in home equity
Goals: Retire at 68 (Tom); fund college for kids
The problem
The DiSilverios have too many accounts, says Clarissa Hobson, a financial planner in Colorado Springs, and their portfolio is not diversified enough.
Also, since their oldest daughter is just four years away from college, the all-stock 529 plan is far too risky.
The advice
Consolidate. Tom and Laura should roll the seven old 401(k)s and IRAs into two IRAs and move all accounts to a single brokerage. "That would be less overwhelming," says Laura.
Get a better 529. The DiSilverios should switch from their high-fee 529 to the Colorado Direct Portfolio college savings plan, which offers low-cost Vanguard funds. They should select the age-based investment options, which automatically become more conservative as the girls approach college.
Re-allocate. The DiSilverios should keep more in stocks than the average fiftysomethings, says Colorado Springs financial planner Susan Strasbaugh, since they can rely on pensions.
Still, 63% in large U.S. stocks is too risky. Strasbaugh suggests cutting the large U.S. stock holdings to 31% of their portfolio and adding some international and REIT funds.
Refinance. Tom and Laura will add only $50 to their monthly payment if they refinance to a 15-year loan, allowing them to retire debt-free.
MONEY magazine is researching an article on ways to reduce the financial pain of college. We're looking for families that can talk about new and creative ways that they're raising cash for college and cutting costs while they're there. Sound like you? Tell us your story and you might even get your picture in the magazine! E-mail Beth_Braverman@moneymail.com