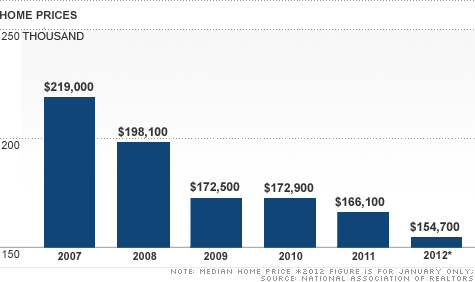 NEW YORK (CNNMoney) -- Home prices fell to their lowest point in more than a decade in January, which helped to lift the pace of home sales, according to a report from an industry trade group.
The National Association of Realtors reported that the median home price in January fell 2% from December to $154,700. That's the lowest price reading since November 2001, before the run-up in home prices that became known as the housing bubble.
The median price is the point at which half of homes are sold for a higher price, and half are sold at a lower price. (Multi-million dollar foreclosures)
Serving as a drag on existing home prices is a large inventory of homes in foreclosure. Distressed home sales, which includes homes in foreclosure and so-called short sales in which the home is sold for less than what is owed on the mortgage, made up 35% of sales in January.
"Prices will continue to fall through the first half of 2012 due to the high share of distressed sales," said Stuart Hoffman, chief economist with PNC Financial. "The recent agreement between the big mortgage servicers, state attorneys general and the Obama administration will also result in more homes going to foreclosure over the next few months, adding to downward pressure on prices."
But the pace of sales rose to the highest level since May of 2010, helped by the low prices and rock-bottom mortgage rates. The seasonally-adjusted annual sales pace of 4.57 million homes was up slightly from the revised 4.38 million in December. The last time homes sold at that pace, buyers were rushing to qualify for an $8,000 homebuyer's tax credit that was about to expire. The latest reading was roughly in line with the expectations of economists surveyed by Briefing.com.
"The uptrend in home sales is in line with all of the underlying fundamentals -- pent-up household formation, record-low mortgage interest rates, bargain home prices, sustained job creation and rising rents," said Lawrence Yun, chief economist for the Realtors.
The housing market has been showing signs of recovery in recent months. The combination of low mortgage rates and a decline in home prices means homes are more affordable than they've been in decades. PNC's Hoffman agreed that the report is a further sign of recovery in the market, although he cautioned "it will remain a long process."
New home starts by builders have been rising, along with their confidence and customer traffic, according to an industry survey.
The supply of existing homes on the market tightened slightly in the Realtors' latest report, slipping 0.4% to 2.3 million homes, roughly a 6 month supply. That is down 20% from the supply of homes a year ago.