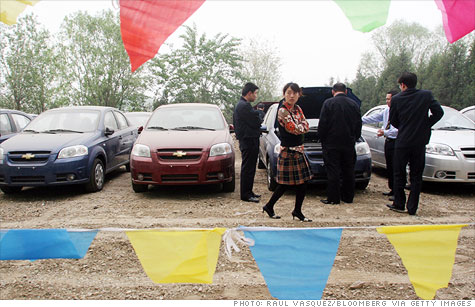 They just aren't moving like they used to.
FORTUNE -- No one can be blamed for forgetting Big Trouble in Little China, the 1986 adventure-comedy flop starring Kurt Russell. But U.S. automakers may be starring in its soon-to-be panned sequel: Big Trouble in Big China, with Dan Akerson, Alan Mulally, and Sergio Marchionne in leading roles.
Recent developments suggest the bonanza promised by China becoming the world's largest auto market is in danger of shrinking dramatically -- or ending altogether. This could be a big blow to General Motors (GM, Fortune 500), Ford (F, Fortune 500), and Chrysler. At issue is the inevitable cooling of China's overheated economy -- but also complicated social and political problems that lie at the heart of the Chinese system. Here are just a few of the red flags:
January auto sales in China fell sharply
LMC Automotive, the successor to J.D. Power and Associates, reports that passenger vehicle sales in China fell 23% for the first month of the year: "Although a weak market had been anticipated ... it has still come as a shock to many when solid growth has become a matter of course." That shock may include many in Detroit. GM, for instance, sells more cars in China than it does in the U.S. Sales of Buicks in China rose 2% in January, but volume for Chevrolet, a brand GM has been promoting heavily around the world, fell 16%. Ford took an even heavier beating: Its sales tumbled 42%.
Results aren't expected to be this disturbing for the rest of the year, but the trend isn't encouraging. According to sales targets compiled from 13 manufacturers, the market is expected to grow 13.5% in 2012. That is well short of the 20.4% growth rate that was predicted by manufacturers a year ago for 2011. LMC has set an even lower target for 2012 passenger vehicles: 9.2%. "We believe the market will return to a more organic growth path in the coming years," it says. Translation: The boom years are over.
End of the government gravy train
China is sharply curbing the expansion of foreign manufacturers by removing subsidies for new construction and making it more difficult for them to receive permits to expand. GM and Ford used to receive government incentives such as breaks on import duties for plant equipment and lower taxes in exchange for building new factories. But those deals expired on Jan. 31. With growth slowing, China is trying to protect its struggling domestic automakers, said to number about 70 -- some of whom reportedly made no cars at all in 2011.
Automakers that already have a presence in China shouldn't be affected in the near future.
Ford was late to the game, but it has been racing to catch up. The automaker is adding capacity for 2.3 million vehicles in the Asia Pacific region, including two new assembly plants, one new engine plant and the expansion of another one, and a new transmission plant -- all in China. Likewise, GM has a full plate in China -- for now. The biggest victim of this policy change is Chrysler. As one of a handful of global manufacturers who make nothing in China, the automaker now has even less of a chance of doing so.
Analysts have long expected China to take steps to gain more control over foreign automakers but have differed on exactly how. Some saw the nation accelerating the transfer of Western technology to itself. Indeed, fears of technology transfer were the reason why GM blocked the sale of bankrupt Saab to a Chinese manufacturer. Other observers have expected China to simply nationalize some facilities or ventures. But in any event, the message it is sending is clear: We still want you here, but we don't need you as much as we used to.
The specter of a Chinese recession
A new report by the World Bank says China could face an economic crisis unless it implements deep reforms, including scaling back its vast state-owned enterprises and making life easier for entrepreneurs.
The report, titled "China 2030, " whose contents were first reported in the Wall Street Journal, warns that growth could slow rapidly and abruptly. It cites a recently identified phenomenon that economists call the "middle-income trap," in which rapidly growing economies slow down significantly when their per capita incomes reach around $17,000 a year. The phenomenon has been observed in Greece and Ireland, among other countries, and some analysts say China could fall victim by 2015.
The report also sees a crossroads ahead for China's state-owned companies, which dominate the economy. Left to grow unchecked, they could put a damper on competition and squeeze out the spread of free-market entrepreneurism. Auto companies know all about this. China requires that Western manufacturers establish joint ventures with Chinese companies, and some of the most prominent are state-owned.
In one of the most successful such arrangements, GM is locked into long-term partnerships with the state-owned Shanghai Automotive Industry Corporation (SAIC) that have spread even beyond China's borders. Shanghai-GM has a 9% share of the China passenger car market, while Shanghai-GM-Wuling sells more than a million small trucks and vans in China. Yet another partnership between the two companies has been formed to expand into India and Southeast Asia. As Asia-based analyst Michael Dunne has wisely observed, "SAIC has its fingers in everything GM does in China."
GM's relationship with SAIC has been tangled lately. The U.S. automaker sold a 1% interest in its primary joint venture to its partner in 2009 during the heat of the bankruptcy crisis, giving SAIC a 51% controlling interest. Lately GM has been trying to reacquire that 1% to restore the balance to an even 50-50 split, and negotiations are said to be proceeding amicably, but who knows? Given the current state of sales, politics, the economy, and industrial policy, predicting the future in China right now seems especially hazardous.