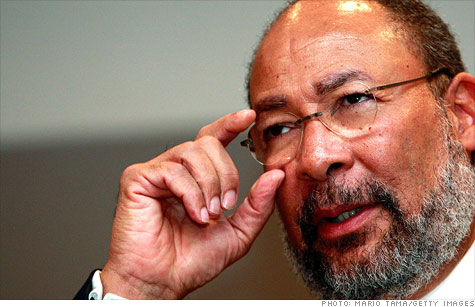 Citi chairman Richard Parsons.
NEW YORK (CNNMoney) -- Citigroup chairman Richard Parsons will be stepping down in April, the bank announced Friday.

Parsons, who has served on Citi's (C, Fortune 500) board since 1996 and as chairman since 2009, will be replaced by Michael O'Neill, a current Citi board member and former Bank of Hawaii CEO.

"Given the strong position that Citi is in today, I have concluded that the time has come for me to take my leave," Parsons said in a statement, adding that he had "complete confidence" in the bank's management.

"Citi still faces a challenging environment, as do all the large banks, but the crisis is behind us," Parsons said.

Citi CEO Vikram Pandit called Parsons "a terrific partner" in the work of slimming down the bank and "returning to our core capabilities of providing banking services to our clients around the world."

Citi still has a long road ahead in its quest to transform itself from a "financial supermarket" into a leaner bank. Its shares have slipped more than 25% in the past year, and it badly missed estimates on earnings and revenue in January.

Parsons also served as chairman of CNNMoney parent Time Warner (TWX, Fortune 500) from 2003 to 2008, and as CEO from 2002 to 2007. He also once served as counsel for New York Governor Nelson Rockefeller and aide to President Gerald Ford.