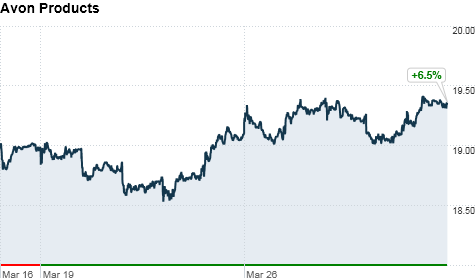 Coty originally offered to buy Avon two weeks ago. Click the chart to track Avon Products.
NEW YORK (CNNMoney) -- Beauty company Coty Inc. has submitted an offer to buy Avon Products, Inc. for about $10 billion on Monday, but Avon rejected the offer.
Coty's offer is for $23.25 per share in cash for Avon, which described it as a 27% premium over the three-month average price.
Avon's (AVP, Fortune 500) stock soared 23% in premarket trading to $23.80 per share after Coty announced the offer. After Avon announced its rejection, the stock softened a bit, but was still up 20% at the start of trading.
Coty, a producer of cosmetics, perfumes, toiletries, skin care and other beauty products, said it decided to make its offer public "in order to inform Avon's shareholders of the significant value in a transaction." Coty said its announcement has followed "extensive but unsuccessful attempts to engage Avon in discussions regarding its proposal," but that it does not to plan to pursue a hostile takeover.
Coty said that Avon, a 125-year-old company, had already rejected this offer two weeks ago.
"At the time, the board concluded, and it still believes, that Coty's indication of interest is opportunistic and not in the best interest of Avon's shareholders," Avon stated in a prepared statement.
Avon's leadership has been in a tenuous situation since last year.
Andrea Jung had been CEO since 1999. But in December she stepped back from that role, agreeing to continue on as chairman until a replacement CEO could be placed.
Coty is no stranger to partnerships. The company website provides a list of 38 brands -- companies and celebrities -- with which it is affiliated. Brands include Adidas, Beyonce, Calvin Klein, Jennifer Lopez, Nautica, Playboy and the Beckhams.