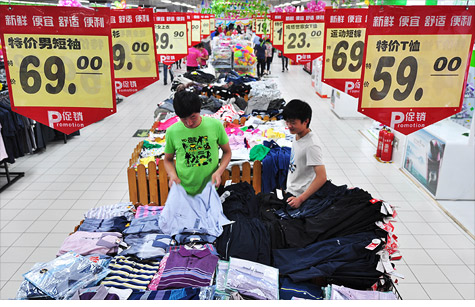 Chinese consumers pay the price for prosperity, facing inflation across a wide spectrum of goods.
NEW YORK (CNNMoney) -- Chinese consumers continue to pay the price for economic prosperity, in the form of inflation for pork, alcohol, traditional medicine and other products, the government reported Monday.
The cost of living kept rising in China last month, especially for food prices, the government's National Bureau of Statistic said. The national consumer price level rose 3.6% in March, year-over-year, including a 7.5% spike in food.
The price of pork, a staple in Chinese cuisine, rose 11.3% year-over-year, while the price of fresh vegetables soared 20.5%.
The price of alcohol took off, up by 8.3% year-over-year.
The price of Chinese herbal medicines jumped 8.5% year-over-year, compared to slight slump by 0.1% in the price of Western medicine.
While inflation poses challenges for consumers, it is the byproduct of one of the most robust economies in the world. Chinese gross domestic product surged 9.2% last year, compared to an increase of 1.7% in GDP for the U.S.
The Chinese economy is slowing down from its frenetic activity, particularly in the area of industrial manufacturing. Much of the current rhetoric from analysts concerning China is about how fast or how slow the economy will continue to downshift, to a soft landing or a hard landing.