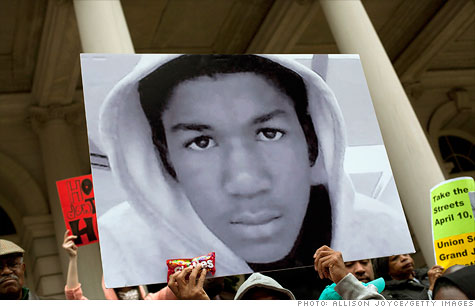 Protesters gather in New York City to call for justice in the Feb. 26 killing of 17-year-old Trayvon Martin in Sanford, Florida.
NEW YORK (CNNMoney) -- Pressure is building on companies to cut ties with a group that has championed Florida's controversial "Stand Your Ground" law, now under scrutiny in the Trayvon Martin case.
Last week, Coca-Cola and Kraft announced plans to pull out of the American Legislative Exchange Council, and activists hope that dozens of other companies, including Walmart (WMT, Fortune 500) and AT&T (T, Fortune 500), will soon follow.
The group, known informally as ALEC, brings together state lawmakers and private-sector representatives to craft "model bills" for introduction around the country.
ALEC says it spurs roughly 200 laws a year on a variety of issues ranging from criminal justice to tax policy. Corporate members pay up to $25,000 annually to join, gaining the opportunity to meet with legislators, attend meetings and help develop policy.
Among the laws ALEC has supported is Florida's Stand Your Ground law, which allows people to use deadly force when they feel a reasonable threat of death or serious injury. The law has been cited by police in Florida in explaining their decision not to arrest George Zimmerman, the neighborhood watch volunteer who shot and killed unarmed African-American teenager Trayvon Martin in February.
Coca-Cola (KO, Fortune 500) said in a statement that its involvement with ALEC "was focused on efforts to oppose discriminatory food and beverage taxes, not on issues that have no direct bearing on our business."
"We have a long-standing policy of only taking positions on issues that impact our company and industry," the company said.
Kraft (KFT, Fortune 500) said it had decided not to renew its membership "for a number of reasons, including limited resources."
"ALEC covers numerous issues, but our involvement has been strictly limited to discussions about economic growth and development, transportation and tax policy," the company said.
While Kraft and Coca-Cola did not specifically refer to the anti-ALEC campaign in explaining their decisions, online advocacy group ColorOfChange.org said it had urged the companies to end their membership.
ALEC, for its part, called Martin's death "a great tragedy" and said it was not clear whether the "Stand Your Ground" law should apply in the case.
The law "is designed to protect people who defend themselves from imminent death and great bodily harm," the group said. "It does not allow you to pursue another person."
Florida's law, passed in 2005, formed the basis of ALEC's model legislation, and similar laws now exist in more than 20 other states, according to public interest law group Legal Community Against Violence.
Even before the Martin case, ALEC was no stranger to controversy.
ColorOfChange initially targeted ALEC in December due to the group's support for voter identification laws, which critics say disproportionately target minority voters. PepsiCo (PEP, Fortune 500) and Intuit (INTU), which makes the QuickBooks and TurboTax software programs, left the group at the end of last year.
ALEC communications director Kaitlyn Buss said the organization is involved in a broad array of issues, and that its private-sector members "really don't partake in those conversations that aren't directly related to what they're interested in."
"The private sector is really interested in something that all Americans should be interested in, which is more jobs, more economic prosperity for everyone, and that's why they come to ALEC," she said.
In the economic realm, ALEC advocates for smaller government, lower taxes and environmental deregulation, among other things. It has 300 corporate members in total, including massive companies like Koch Industries, the conglomerate run by billionaire brothers David and Charles Koch, and Pfizer (PFE, Fortune 500).
"Important decisions and discussions take place within ALEC because of its membership," Pfizer spokesman Peter O'Toole said. "As an organization that makes medicines for patients that are impacted by these legislators' decisions, we want to be involved in that discussion where we can be helpful."
Going forward, these firms can expect more public pressure, said Lisa Graves, executive director of the Center for Media and Democracy, which has extensively researched ALEC's activities.
"We think that companies that are providing financial support to ALEC are making its agenda possible," she said.