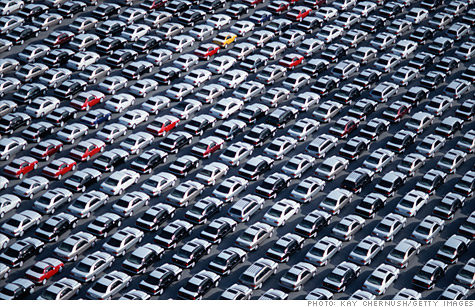 FORTUNE -- They aren't selling like iPads or Hunger Games tickets, but global auto sales are enjoying a nice run. They have grown 18% since 2005 to more than 75 million cars and trucks, and Bank of America Merrill Lynch is expecting the industry to tack on another 3.9% increase this year.
However, the rewards from those sales are not being shared equally. Increasingly, the profits are going to a handful of mega-companies in North America, Europe, and Asia that are using their size to make best use of the industry's economies of scale. These companies are expected to grow even larger in the years ahead. If they properly apply their brute strength, they may turn the rest of the world's automakers into also-rans.
The question of size, sales volume, and how best to achieve it is preoccupying the minds of some of the industry's most forward-looking CEOs. Just last week, Renault-Nissan's Carlos Ghosn raised the issue in a speech in conjunction with the New York auto show. Said Ghosn: "Ours is an industry of scale, and the minimum volume necessary to achieve competitive economies of scale keeps going up."
And up. As one Nissan executive told me, "Ten million units is the new eight million."
Fiat-Chrysler CEO Sergio Marchionne also sees the bar for a competitive cost structure rising higher and higher. When he explained his rationale behind the Chrysler takeover in 2009, Marchionne said that automakers needed annual sales of at least six million vehicles in order to be successful. More recently, he has raised the bar of success. He now says that an automaker needs to sell 10 million units per year globally in order to reach "a new level of efficiency" and reduce development costs to where he wants them.
In order to reach Marchionne's volume target, Fiat-Chrysler will have to catch up to five manufacturers that are extending big leads. (See the table below.) The quintet is led by General Motors (GM, Fortune 500), which reigned as the world's largest automaker for half a century but now must contend with Renault/Nissan and a resurgent Toyota that is shaking off the effects of recalls and natural disasters. Trailing this Big Three are the fast-rising Hyundai Group and a newly ambitious Volkswagen.
After VW, there is a gap of 1.2 million units until you come to Ford (F, Fortune 500). The difference reflects divergent strategies and stages of development. While VW has been managing a house of brands ranging from mass-market Jettas and Passats to the ultra-exclusive Bugatti, Ford has been jettisoning companies like Volvo and Jaguar-Land Rover in order to focus on its core Ford cars and trucks. As a result, it has paid a penalty in size.
Prestige luxury makers Mercedes-Benz and BMW can compensate for their smaller volumes -- BMW is one quarter the size of GM -- with richer margins. But those companies caught in the middle -- notably Peugeot, Honda, Suzuki, Mazda, and Fuji Heavy Industries, parent of Subaru -- could find themselves facing a significant cost disadvantage.
15 great cars that get overlooked
Volume alone is no solution. Size creates complexity, which can be a handicap as well as a help, as GM's bankruptcy vividly demonstrated. The key to success is to deploy resources effectively in order to realize economies of scale. More scale enables manufacturers to spread the costs of engineering and product development over larger volumes. It pays particular dividends as companies strain to reduce the number of platforms that underpin their vehicles.
VW and Toyota have the advantage here because they are cleverer about using their size as a lever to get efficiencies. With a single set of basic components, VW is able to build three million cars -- more than any company in the world, while Toyota owns the second most prolific platform.
GM is striving for similar economies. It has announced that it plans to almost halve its vehicle platforms from 30 in 2010 to 14 in 2018. By so doing, it expects to save $1 billion annually, mostly in engineering costs. But its efforts look miniscule compared to VW, which is developing a single passenger car platform called MQB that will underpin more than 40 models from four brands: VW, Audi, Skoda, and Seat. VW expects to cut its costs for product development and parts by 20% and its production time by 30%.
In order to get bigger, automakers are bulking up like so many steroid-era baseball players. Renault-Nissan is broadening its partnership with Daimler by building engines for Mercedes-Benz at its powertrain plant in Tennessee, while Germany's Opel has linked up with France's Peugeot to develop common platforms. Meanwhile Sergio Marchionne watches enviously from the sidelines. He is widely speculated to be hunting for a third -- or even fourth -- partner for Fiat Chrysler.
Such shotgun marriages will be difficult for companies like Ford, whose family owners are unwilling to give up control of their company, and Honda, which seems to be philosophically unwilling to do anything but chart its own course. Toyota also wants to grow organically, but it has had more success expanding with its Lexus luxury vehicles and Prius sub-brand.
The impact of these moves and others is reflected in the IHS forecast for 2020, also in the chart below. Although the order has changed, the five mega-companies remain at the head of the pack, and their lead has lengthened over the also-rans. VW will not have reached its goal of ten million units according to IHS, but its lead over Ford is expected to grow from 1.3 million units to 1.7 million units. And Toyota, which led Honda by 3.8 million units in 2011, is forecast to stretch its advantage to 4.4 million units.
The drive for size will inevitably lead to additional consolidation of the industry. For 30 years or more, experts have been predicting that the number of automakers would shrink to six major players on three continents. That hasn't happened because governments have kept national companies afloat when economic logic would have dictated otherwise. But do France and Italy really need three independent car companies between them? The recent flurry of activity -- and the hard fiscal realities of the 21st century -- suggests that the day of reckoning may be at hand.