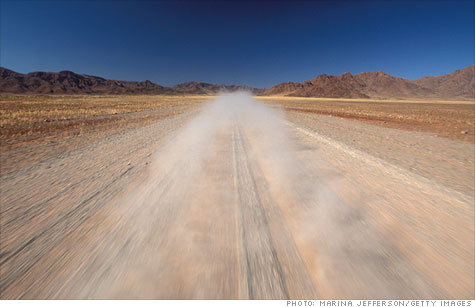 Cadillac and Lincoln eat dust in California.
FORTUNE -- Cadillac and Lincoln are two of America's most storied car brands, with more than 200 years of automotive history between them. But in the country's largest and highest profile luxury car market -- California -- they are regularly trounced by Europe's upscale automakers and even the Japanese. Both domestic brands are spending hundreds of millions of dollars to catch up, but they have a long way to go.
Spend some time cruising the eight-lane freeways of Southern California as I did recently, and you will find yourself surrounded by fleets of Mercedes-Benz's and BMW's, sprinkled with an assortment of Audi sports cars, Range Rover SUVs, Jaguar sedans, and Porsches. These are mostly high-trim models, too, with AMG and M-sport badges in abundance. Black is the favored color. The Cadillac Escalade appears to be the most favored domestic offering -- popular with hotel shuttle services -- but you search in vain for a Cadillac CTS or any passenger car with a Lincoln's in-your-face bow-wave grille.
The dimension of the domestics' drubbing is extraordinary. In the Los Angeles metro area, Euro-luxe brands account for a robust 15.3% of all new car sales (figures compiled by Edmunds.com). That's more than double their national share. Mercedes is the leader, followed closely by BMW and then by Audi. Jaguar, Land Rover, and Porsche make up the remainder. "Cars define perceived status and power in California," says Lou Ann Hammond, founder of Drivingthenation.com. "Mercedes and BMW know the DNA of their customers, and they design their cars just for those people."
The domestics are basically invisible in Southern California. The two U.S. brands together can't even outsell Infiniti -- the weakest of the Japanese luxury lines. Cadillac holds 1% of the L.A. market and Lincoln a 0.3% sliver.
The dominance is almost as pronounced in California statewide, where the Europeans hold a 12.7% luxury share. Mercedes is the sales leader with 4.9% of the market, followed closely by BMW with 4.6%, and then by Audi. The domestics are basically invisible. Cadillac has an 0.8% share and Lincoln 0.4%.
None of this is new. California is an early adopter state and, far from the heart of the U.S. auto industry, has few geographic, historic, or emotional ties. With its dramatic landscapes, expansive highway system, and long commutes, it becomes a showcase for automotive sheet metal that puts a premium on unusual and exotic. Affluent communities like Newport Beach have their own dealerships for brands like Ferrari and Tesla, and even the rare Fisker Karma can be seen on the street.
Detroit has been trying to lure California customers for years, with Euro-inspired cars like the Cadillac Catera (1997-2001) and Lincoln LS (1999-2006). But its mass-market mentality seems at odds with the personal expression Californians demand from their vehicles. Neither Cadillac nor Lincoln offers a convertible model, for instance -- a major deal-breaker for Golden State customers.
The inability of the domestic brands to get traction is becoming increasingly problematic because fat luxury car margins are needed to offset the secular decline of profit-rich SUVs. This year, their shortcomings have become especially acute. Lincoln's sales were up only slightly in a sharply rising market during the 2012 first quarter, while Cadillac was down 24%.
To make up for lost time, both brands are scrambling. Lincoln has embarked on a multi-year overhaul of its entire product line, while Cadillac will triple its lineup of passenger cars in the next 12 months. Rather than compete with the Europeans, their strategy, for the most part, is to aim for the gaps and stay out of the mainstream.
Lincoln made the down payment on its revival plan earlier this month when it unveiled the 2013 MKZ midsize sedan at the New York auto show. The reveal was performed by Max Wolfe, the chief designer -- a sign that Lincoln believes that the MKZs style will sell. Wolfe got an assist from Ford Motor's (F, Fortune 500) global marketing chief Jim Farley, who is trying to raise the service level of Lincoln dealers.
But the elegantly understated MKZ doesn't aspire to the same level of exclusivity as the European brands. It is based on the same mid-size platform as the high-volume Ford Fusion, offers few performance options, and its power is delivered through the front wheels, a no-no for purists.
Cadillac also dodged a confrontation with the competition in conceiving the XTS that is arriving at dealers this spring. In concept, this full-size sedan comes closer to the old Sedan de Ville than it does a Mercedes S-class. Another front-wheel design, it is designed to corral traditional Cadillac enthusiasts who prize comfort over cornering. With a starting price of $45,000, the XTS will be attractive to buyers on fixed incomes.
General Motors (GM, Fortune 500) got more ambitious with the Cadillac ATS, which it is putting up against the ever-popular BMW 3-series. Due to go on sale this summer, the ATS is built on an all-new rear-drive platform that has been put on a diet to keep its weight down. Power is provided by a potent 270-horsepower turbocharged two-liter engine, and a manual transmission is available.
GM has put BMW in its sights before but never so directly. Its web site contains an explicit comparison between the ATS and BMW 3-series, with the claim that "every last detail [of the ATS] was expressly conceived and honed to go head-to-head with the world's leading compact luxury sedans." That kind of bravado hasn't served GM well in the past. Its Pontiac Solstice roadsters couldn't compete with Mazda's Miata, and the Volt has had a hard time matching up against the car it was designed to overleap, the Toyota Prius.
This time, however, the specifications of the ATS suggest that GM hasn't brought a knife to a gun fight. But both Cadillac and Lincoln face a long journey ahead of them to get back to upscale brand respectability in California. As a first step, after all, they have to catch up with Infiniti.