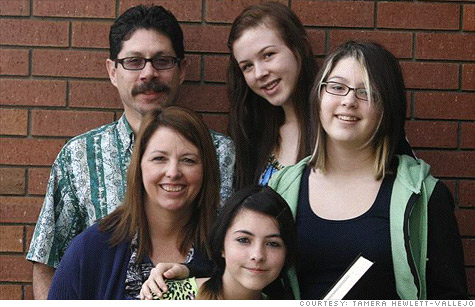 The Vallejos got a last-minute foreclosure reprieve from Bank of America.
NEW YORK (CNNMoney) -- Tamera Hewlett-Vallejo and her husband, Tom, came within a whisker of losing their Sacramento, Calif., home in a foreclosure auction last month. But as a result of the $26 billion national mortgage settlement, the Vallejos were given a last-minute reprieve.
Their mortgage lender, Bank of America (BAC, Fortune 500), called off the auction, then offered to slash the couple's mortgage by more than $85,000 and cut their interest rate to 4.6% from 6.7%. As a result, the couple's mortgage payment would be $570 cheaper at about $2,100 a month.
The Vallejos are among the earliest recipients of one of the foreclosure settlement's biggest windfalls. As part of the deal, which was struck between the nation's five biggest mortgage lenders and the states' attorneys general, roughly one million borrowers will have their mortgage principal slashed by as much as $100,000.
Early last month, Bank of America said it had identified more than 200,000 borrowers who pre-qualified for principal reductions. The bank has yet to reach out to these homeowners, however, saying it will begin to send out letters to this group within a week or two, according to spokesman Rick Simon. It aims to reach most eligible borrowers within six months.
But there is a small group of homeowners, including the Vallejos, who are either already in the mortgage modification pipeline or in danger of losing their home, who have already been contacted by the bank.
A last-minute reprieve. The Vallejo's home was scheduled to be sold in a foreclosure auction at 9:30 a.m. on a Monday in early March. "We literally went to Church on Sunday praying for help," said Hewlett-Vallejo.
The day of the auction, however, the Vallejos discovered their address wasn't on the list of properties on the block. Later that day, a representative from Bank of America called to tell them they had qualified for a principal reduction under the settlement.
"I sat with tears running down my face," said Hewlett-Vallejo.
Tamera, a real estate agent, and Tom, who is a teacher, had bought the three-bedroom wood-frame cottage in 2001 for less than $240,000. In the midst of the housing boom, when their home's value had soared to more than $430,000, the couple refinanced in order to get a lower rate and take out extra cash for some home improvements.
Then, in 2009, a commercial real estate deal that Tamera invested in went sour and ended up in litigation. The couple soon fell behind on their mortgage.
By September 2010, the missed payments -- and ensuing fees -- brought their mortgage balance up to about $385,000. Meanwhile, their home's value had plunged by more than 30% to about $300,000.
For two years, the Vallejos tried to get Bank of America to modify their mortgage. But the bank kept denying the request, saying it needed additional paperwork.
"Each time, we started over with a new person and some new requirements based on that person's or the underwriter's perspective," she said.
By the day of the foreclosure auction, the Vallejos assumed they were out of luck.
"We didn't know what we were going to do," said Hewlett-Vallejo. They hadn't even made new living arrangements.
A few days after finding out the auction was off, the Vallejos received the details of their modification from Bank of America. The bank offered to bring their balance to $300,000. They'd still be slightly underwater, but the principal reduction alone would save them about $400 a month.
Bank of America said its goal is to lower housing payments to no more than 31% of income. "If the payment is still above the affordable payment target, the second step is to lower the interest rate," said Simon.
In this case, the bank also offered to reduce their interest rate, which would reduce their monthly payments by another $170 or so, and to keep the term of their loan to the existing 23 years that the Vallejos had left to pay.
But there is a catch. "We're required to make three months of trial payments -- April, May and June," say Hewlett-Vallejo.
If they miss a payment, the deal is off and the Vallejo's home heads back to the auction block.