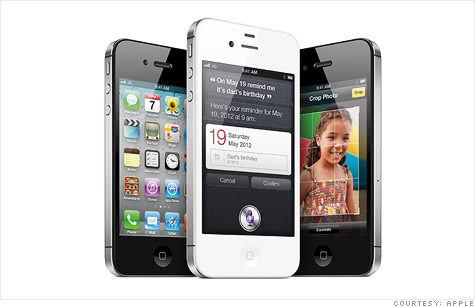 NEW YORK (CNNMoney) -- If AT&T and Verizon are any indication, it could be a rough quarter for Apple.
IPhone activations at the two biggest U.S. wireless carriers came in well below expectations. AT&T (T, Fortune 500) said Tuesday morning that it activated 4.3 million of the devices and Verizon (VZ, Fortune 500) reported last week that it activated just 3.2 million in the first three months of 2012.
That's down 43% and 24% respectively from the previous quarter. Wall Street analysts had expected around a million more iPhone activations between the two carriers.
The poor showing is potentially very bad news for Apple. In the fourth quarter, AT&T and Verizon combined to make up 32% of all of Apple's iPhone sales. If that number held steady in the first quarter, Apple will have sold just over 23 million iPhones -- well short of analysts' median estimate of 30 million.
Why the weak showing? Competition from iPhone rivals is growing, particularly from Google's (GOOG, Fortune 500) Android smartphones. About half of Verizon's smartphone sales and 22% of AT&T's were non-iPhones during the first quarter, up from 45% and 19% respectively in the prior quarter.
Another explanation for the weak showing: Though in the past Apple has been able to avoid seasonal drop-offs in iPhone demand, investors are concerned that may no longer hold true.
It's possible that iPhone customers have become so acclimated to Apple's release cycle that those who didn't pick up an iPhone 4S in the fall are willing to wait through the winter and spring to pick up an iPhone 5 -- or whatever the new iPhone will be called -- in the summer.
Shares of Apple (AAPL, Fortune 500) fell 2% on Tuesday, continuing a two-week long slide that has dragged the stock down nearly 13% from its all-time peak.
Yet there's still reason for Apple investors to be hopeful.
Verizon and AT&T are just two of about 150 iPhone carriers in the world, and roughly two-thirds of iPhone sales came from non-U.S. countries in the fourth quarter. Foreign iPhone sales should make up an even more sizable chunk of iPhone sales this quarter, as the iPhone 4S launched on China Unicom (CHU) in January and China Telecom (CHA) in March.
Even if overall iPhone sales ultimately disappoint, Apple had another major product launch in the first quarter that it may be able to hang its hat on: The new iPad went on sale in March.
Analysts' median forecast is for Apple to sell about 11 million iPads, but there is one wild card that could give the iPad a better-than-expected boost: Apple kept the very similar iPad 2 on store shelves and cut its price by $100.
Otherwise, a strong quarter
Meanwhile, disappointing iPhone sales proved to be a strangely good thing for both Verizon and AT&T's bottom lines. Since Apple forces carriers to pay the highest up front subsidies in the smartphone business, selling fewer iPhones helps boost cell phone companies' profit margins.
Verizon's wireless service profit margin rose to 46%, rebounding from 42% in the previous quarter. Similarly, AT&T's wireless margin rose to 42%, up from 38% in the fourth quarter.
Both Verizon and AT&T also posted improved margins from the same quarter a year ago, as the number of smartphone users grew. Smartphone customers pay more for their service, helping to boost carriers' average revenue per user. Verizon's ARPU rose 19% year-over-year to $55.43 and AT&T's rose 1.7% to $64.46.
Overall, the news was slightly better for Verizon than for AT&T in some key areas. Verizon added 501,000 wireless customers under contract, compared to just 187,000 for AT&T. But AT&T said 180,000 of those were new tablet customers, who tend to pay far less for their devices than smartphone customers.
And even though AT&T has outpaced Verizon's iPhone sales in every quarter since Verizon started carrying Apple's device in February 2012, Verizon actually continues to gain U.S. iPhone share.
This is possible because AT&T is selling iPhones to existing iPhone customers, while Verizon continues to gain new iPhone customers. Verizon added 2.5 million new iPhone subscribers in the quarter, compared to just 903,000 for AT&T, according to an analysis by Kevin Smithen at Macquarie Research.
The third national iPhone carrier, Sprint (S, Fortune 500), is set to report its financial results on Wednesday morning.