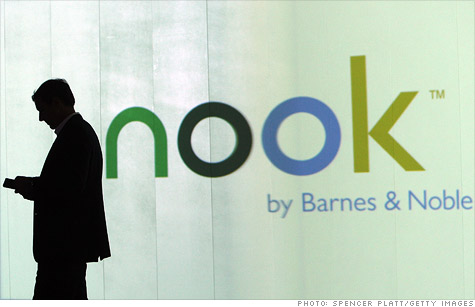 Nook business is now valued at $1.7 billion - more than twice value of Barnes & Noble stock.
NEW YORK (CNNMoney) -- Microsoft is investing $300 million with Barnes & Noble for a 17.6% stake in its digital e-book reader the Nook, sending the bookseller's shares soaring in early Monday trading.
Shares of Barnes & Noble (BKS, Fortune 500) shot up 85% at Monday's open and were up 55% shortly before the trading day ended. Shares of Microsoft (MSFT, Fortune 500) edged up 0.3%.
The deal follows a statement from Barnes & Noble in January that it planned to spin off its Nook business.
Microsoft's investment values the overall Nook business at $1.7 billion, which is more than twice the $792 million market value for all of Barnes & Noble at the close Friday.
The deal will also include a Nook application for Windows 8, Microsoft's main operating system.
The companies' statement says the app will create hundreds of millions of potential new customers for Barnes & Noble's catalogues of e-books, magazines and newspapers. But left unsaid is that the app will reduce the need for potential customers to purchase the Nook to read those digital books and publications.
In January, Barnes & Noble announced that holiday sales for the Nook unit, including devices and e-books, increased 43% compared to last year, to $448 million.
Barnes & Noble warned at the time of a bigger loss for the current year than previously expected. It blamed that partly on weak sales of the Nook Simple Touch, the company's $99 black-and-white e-reader. It also said sales of its $249 color Nook Tablet, released in November, topped expectations.
The book merchant also said in January that it planned to increase its investments in its Nook line, ramping up advertising and international expansion -- another factor driving the larger loss estimate. The investment from Microsoft could limit those losses.
The Nook has been struggling in competition to the Kindle products from Barnes & Noble's online rival, Amazon.com. While neither company releases sales figures for the devices, Amazon (AMZN, Fortune 500) announced in December that it had sold 1 million Kindles for each of three weeks in a row.
-- CNNMoney's Julianne Pepitone contributed to this report.