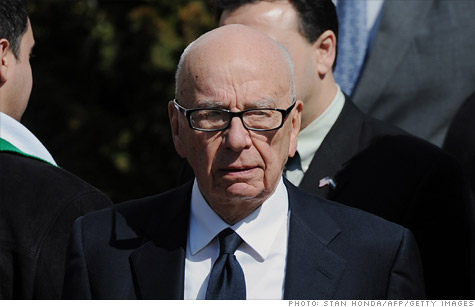 Rupert Murdoch isn't expected to give up control of News Corp., despite a British government report that said he is not a fit and proper person to run the company.
NEW YORK (CNNMoney) -- Embattled media mogul Rupert Murdoch received his harshest official rebuke yet related to the phone hacking scandal at News Corp., but experts say he's not going to abdicate control of the media conglomerate any time soon.
Tuesday a committee of the British Parliament investigating the scandal issued a report that said Murdoch was not a "fit person to exercise the stewardship of a major international company." (See correction)
In response the company said, "hard truths have emerged from the select committee report: that there was serious wrongdoing at the News of the World; that our response to the wrongdoing was too slow and too defensive; and that some of our employees misled the Select Committee in 2009."
"News Corporation regrets, however, that the select committee's analysis of the factual record was followed by some commentary that we, and indeed several members of the committee, consider unjustified and highly partisan."
News Corp. did not have any immediate comment on how Tuesday's report might affect Murdoch's plans to run the company.
Experts see little chance Murdoch would voluntarily give up control of the company he built unless a change in his health forced him to do so. He turned 81 in March.
"Self-made billionaires are fighters. He's not going to leave because someone writes a report and says he's not a nice guy," said Laura Martin, of Needham & Co.
The report raised the risks that the British media regulator, Ofcom, could force News Corp. to shed its valuable stake in British pay television service BSkyB.
Ofcom said it is "continuing to assess the evidence," and that it "has a duty under the Broadcasting Acts 1990 and 1996 to be satisfied that any person holding a broadcasting license is, and remains, fit and proper to do so."
News Corp. has acknowledged it is also the subject of a U.S. investigation of the British hacking scandal under the Foreign Corrupt Practices Act (FCPA). While that probe could lead to U.S. charges, it is unlikely that Murdoch would be forced from the company, said Mike Koehler, FCPA expert and professor of business law at Butler University.
One thing the scandal has done, is make it less likely that his son James will succeed him as chairman and CEO. He has lost much of his power and duties in recent months as the various probes looked at his oversight.
But Chase Carey, the deputy chairman, president and chief operating officer of the company who is seen as a likely successor by many, isn't expected to take the company in any significantly new direction if he ends up in the top job.
"Chase Carey really runs a lot of it already," said Martin.
Resilient stock price: Investors seem undaunted by the scandal.
Shares of News Corp. (NWS) rose 1.7% in afternoon New York trading, and are up 11% so far this year. While that year-to-date gain trails the performance of rivals such as Walt Disney (DIS, Fortune 500), Comcast (CMCSA, Fortune 500) and CBS (CBS, Fortune 500), it has outperformed the gains of media conglomerate Time Warner (TWX, Fortune 500), owner of CNNMoney among other properties.
Experts say one thing protecting News Corp.'s share price from the British scandal is that its more extensive holdings outside Britain, including the Fox networks and movie studios in the United States, are not threatened by the British decision.
"With no clear evidence that News Corp.'s problems extend beyond the UK, we find it difficult to foresee meaningful problems for News Corp.'s non-UK assets, which represent the vast majority of News Corp.'s market capitalization," wrote Richard Greenfield, analyst with BTIG, in a note to clients Tuesday.
Greenfield said News Corp.'s stock price would benefit from the company selling off its UK newspapers, which are among its least profitable units. While BSkyB is more profitable, Greenfield said sale of that stake could also lift the News Corp. stock.
The Murdoch family holds 40% of voting shares of News Corp., while Saudi investor Prince Alwaleed, who has so far supported the Murdochs in the scandal, owns another 7%.
Correction -- An earlier version of this story incorrectly quoted the committee's report. The report said Murdoch was not a "fit person to exercise the stewardship of a major international company."