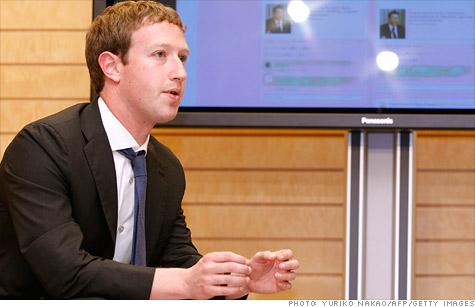 Facebook CEO Mark Zuckerberg plans to sell shares in the IPO to cover a hefty tax bill.
NEW YORK (CNNMoney) -- Facebook's hotly anticipated stock market debut is growing near. The company is aiming to begin publicly trading on May 18, according to the Wall Street Journal.
That date is a moving target: IPO-related plans frequently change, and Facebook is still finalizing its regulatory paperwork. A company representative declined to comment on Facebook's IPO timing.
The next step on Facebook's IPO journey will be its "road show," a series of presentations at which company executives get a chance to pitch big investors privately. The company is reportedly planning to start that process next week.
Soon after the road show, Facebook will update its IPO registration paperwork with a proposed price range for its shares.
Facebook said in a filing last month that it currently values its shares at $30.89 each, as of January 31 -- up from $29.73 a month earlier. Anticipating heavy demand, analysts expect the shares to command a premium when Facebook's underwriters (including lead banker Morgan Stanley) sell them to their clients during Facebook's IPO.
Ordinary investors looking to get a piece of Facebook will have to wait until the next morning. Unlike Google (GOOG, Fortune 500), whose IPO used a "Dutch auction" to allow direct bidding by investors, Facebook's setup doesn't give regular folks access until shares begin trading publicly.
Facebook's original filing said the company plans to raise $5 billion in its IPO, but that's another number that's subject to change. Facebook will set its final target shortly before it completes its offering.
Facebook will also update its filing to list which stockholders are selling shares -- and how much they're unloading. Facebook CEO and founder Mark Zuckerberg plans to sell some of his holdings, but Facebook says that "substantially all" of his proceeds will go to cover a hefty tax bill from exercising stock options.