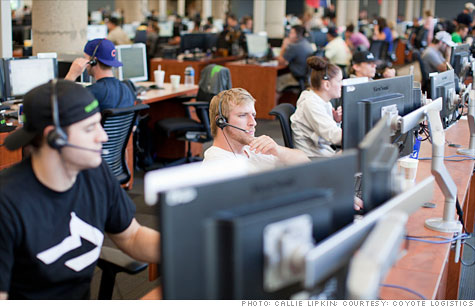 Chicago-based Coyote Logistics topped this year's Inner City 100 ranking.
FORTUNE -- In a presidential election year, the economy is sure to be the story, with plenty of numbers for detail and small businesses playing the main characters. But over the past 14 years, the Boston-based Initiative for a Competitive Inner City (ICIC) has collected 100 urban business success stories every year.
These fast-growing inner city companies represent some of the most dynamic small businesses in the country, with winners hailing from 46 cities, rendering an image of the challenges that small operations face nationwide.
"This is a list of incredibly fast-growing companies, representing a diversity of industries ... who have used every tool at their disposal to attract, retain, and grow a very committed workforce and who are giving back to their communities in many ways," says Mary Kay Leonard, president and CEO of the ICIC.
Each year, the Inner City 100 has yielded a trove of valuable tips for small businesses. Four new trends emerged from this year's study, revealing useful methods for just about every entrepreneur.
Invest in your people
With an average growth rate of 577% from 2006 to 2010 and a median 2010 revenue of $6.5 million, companies that made this year's list are clearly bucking the small business economy's downward trend. Comparatively, U.S. census data shows that since 2007, startups went from creating 7% to just over 2% of all new jobs in 2010. This data was highlighted in a report by the Kaufman Foundation, which pointed to an overall decline in young companies dating back to the 1980s, but with an even more pronounced drop in the past five years.
One way the Inner City 100 companies are succeeding is by focusing on their workers, says Tim Ferguson, managing partner of Next Street, a Boston-based consultancy that advises small businesses operating in underserved markets. "You can compete more effectively for the talent as you grow," he says, "and you have a higher probability of retaining the people that you've got."
Chicago-based Coyote Logistics topped this year's list with a compound annual growth rate of 295% to go alongside its $328 million in 2010 revenues, but what makes CEO Jeff Silver even more proud is his company's paltry 5% employee turnover. The Chicago Tribune named Silver's venture one of the city's best places to work in 2011.
Many Inner City 100 firms attribute their growth in part to their committed workforce, says Leonard. Offering good benefits is a big part of creating a dedicated workforce. According to an ICIC survey, 96% of this year's Inner City 100 company employees get access to health insurance through their employer, 69% have professional development opportunities, and 61% are offered 401k plans. Even in good times, those perks are hard to walk away from.
Anchors will keep you afloat
In 2010, the average revenue for Inner City 100 companies was an impressive $15.3 million, but even with this relative health, firms had their concerns. Nineteen percent of ICIC's surveyed respondents said the unstable economy was their primary barrier to growth, a figure that Leonard says is lower than the general business population. One possible explanation for the relative optimism could be that 66% of these fast-growing companies had an "anchor" as their largest customer. Anchors are large institutions -- like a hospital or a university -- that are important sources of contracts, employee training, or mentoring and advice for small, inner-city businesses.
Boston-based Luggage Forward -- No. 21 on this year's list -- has benefitted immensely from its relationship with nearby colleges, says Leonard. A doorstep-to-destination luggage delivery firm, the six-year-old company specializes in shipping sports equipment, ensuring that skis, golf clubs, and other gear get to their respective destinations on time. In addition to drawing business out of the local schools, Luggage Forward's founders have built their staff with the plentiful market of recent college graduates, too. In fact, 56% of Inner City 100 companies recruit new employees from local institutions.
When it comes to sales, 25% of Inner City 100 companies' revenues came from large corporations. Such steady business contributes more than just revenue, says Ferguson. It also gives these companies the opportunity to scale up, he says.
Firms with a cause reap bigger dividends
In addition to universities and hospitals, government institutions can also serve as small business anchors. By latching on to policies that support community health, charity, or environmentalism, companies can multiply their impact by pursuing what is often referred to as a "double bottom line."
For example, Oakland-based Revolution Foods not only provides lunches to school districts in more than 20 cities across the country, but their fare is healthy, fresh, and affordable. Started by two UC Berkeley Business School graduates who wanted to combat childhood obesity, the company has grown wildly since it launched in 2006. Revolution's mission has attracted support from much larger organizations, like Whole Foods (WFM, Fortune 500), which has helped it grow by 144% every year between 2006 and 2010, according to ICIC.
The company has also cultivated partnerships with local job development partners across the country, allowing them to hire from underserved areas across the nation. This hiring trend was popular among Inner City 100 companies, which had 36% minority staffing in 2010.
Food fuels growth
Revolution Food's prosperity, however dramatic, shouldn't come as too much of a surprise. In general, the food service category was very successful in 2010, with 12 food-related companies making this year's Inner City 100, vaulting the industry into the top five sectors on the list. Whether it's on account of First Lady Michelle Obama's anti-obesity initiatives, or perhaps the halo effect of increased environmental food manufacturing, "food clusters" have begun to pop up in inner cities, creating jobs and adding new green spaces and gardens to neighborhoods.
One such business, New Haven, Conn.'s Gelato Guiliana, started out as a neighborhood dessert hotspot and now distributes goods across the northeast from its craft manufacturing facility. Located next to railroads and highways, the company has been able to distribute its frozen goods efficiently from its headquarters in Connecticut's food cluster, pulling in more than $1 million dollars with an annual growth rate of more than 54%. They join a menu of Inner City 100 companies that offer anything from Greek yogurt to Neapolitan pizza.
Altogether, these 100 companies supported nearly 8,000 jobs in 2010. "The Inner City 100 is really important because it brings a focus on the opportunity that exists within inner-city small businesses," says Ferguson. "They employ people from the neighborhoods, and at the end of the day, a job is the best social program you can have."