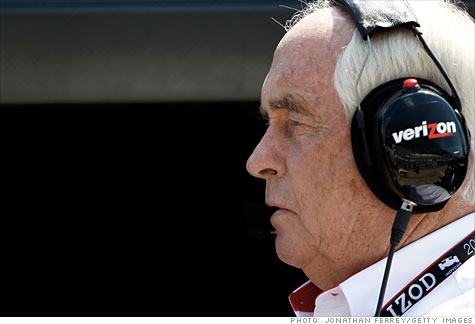 Roger Penske doing what he loves
FORTUNE -- The death of Carroll Shelby last week got me thinking about what race car drivers do after they pull into the pit lane for the last time. Some, like Shelby, have made even bigger names for themselves off-track than on.
Shelby was a consummate promoter and entrepreneur. After winning Le Mans in 1959, he retired from the sport with a heart ailment and dabbled in a variety of ventures. Besides developing the Shelby Cobra and the Shelby Mustang GT350, he lent his name and expertise to Ford (F, Fortune 500) and Chrysler for various projects with varying success. And that wasn't all. According to his obituary, he also ran an African safari business, dealt in diamonds, and invested in radio stations, motels, cattle ranches, and restaurants. In his spare time, Shelby founded the Terlingua International Chili Championship in Terlingua, Texas, and his name appears on boxes of Carroll Shelby's Original Texas Brand Chili Preparation
It was an eclectic path for an energetic, entrepreneurial man, who cut a few corners in the process and became enmeshed in a number of legal squabbles. Most retired drivers typically follow a more conventional path that builds on their racetrack experience and the fame that came with it. Some of the more prominent names now in business include:
Bob Bondurant. Bondurant raced in Corvettes, Shelby Cobras, and stock cars until he decided to quit after a 1957 accident at Watkins Glen, when his car flipped over eight times. He went on to found the Bob Bondurant School of High Performance Driving, coaching celebrities like Tom Cruise and Nicolas Cage behind the wheel. The school is based in Phoenix, where it operates out of its own purpose-built track and has taught evasive and stunt driving in addition to teen driving and karting to more than 300,000 students.
Bobby Rahal. Rahal won the Indianpolis 500 as a driver in 1986 and then won it again as a team owner in 2004. He was also an early backer of Indycar and Nascar driver Danica Patrick, whom he hired as an unknown 20 year-old and saw her go on to finish third in the Indy 500 (though not on his team). Rahal currently overseas three auto dealerships in Pennsylvania representing 11 different franchises.
Skip Barber. Barber, who started racing while still enrolled at Harvard where he majored in English, founded his eponymously named racing school in 1975 after winning sports car championships and competing in Formula One. His alumni have since won races in every major series. Barber built the school into one of the largest of its kind before selling it and devoting his energies to Lime Rock Park, a historic road-racing track in Lakeville, Conn.
Then there is Roger Penske. In terms of name recognition, he trails Shelby in many circles, but when scope, reputation, impact, and wealth accumulation are considered, there is no contest. Now a billionaire, Penske presides over a transportation empire that he created from scratch -- as well as a racing organization that is one of history's most successful.
Penske was a prominent sports car driver who had enjoyed buying and selling cars as a teenager. After he arranged the financing to buy a Chevrolet dealership at the age of 28, he felt he had to choose between business and racing, and business won. As Penske told MotorTrend's Todd Lassa in 2005, "I made the decision to become a businessman instead of a race driver when I became a Chevy dealer. I was a good race driver. I don't know that I was a great race driver. Mario Andretti [a contemporary] went on to be one of the greatest race drivers of all time. I took the business route."
Penske founded Penske Corporation in 1969, and today it acts as a holding company for 16 operating units, including truck rental and leasing, a logistics company, two suppliers of truck parts, and a manufacturer of high-performance engines. Privately held, Penske Corp. claims revenues of more than $16 billion and employs more than 16,000 people.
The star of the company is the Penske Automotive Group (PAG, Fortune 500). Roger Penske took over the struggling United Auto Group in 1999, renamed it, and remade it. Today it operates 320 dealership franchises in the U.S. and abroad. With a high concentration of European luxury brands like Mercedes-Benz and BMW, it has been reporting record results. After a strong performance in 2011, its first quarter 2012 income from continuing operations increased a stunning 37% to $50 million.
Being publicly owned, PAG has shed some light on Penske's personal wealth. In 2011, the company paid him $4.4 million as chairman and chief executive. His 32 million PAG shares, representing 35% of the company, are worth $800 million. Penske Corp. holds another 34% of PAG stock.
It is a remarkable story, all the more so because Penske has restricted his investments to transport services on wheels -- hardly a glamour or growth business. It has taken him nearly half a century to build what represents a fraction of the wealth created by Facebook in less than a decade. Penske's story should be better known, but he seldom talks to the business press. A very hands-on executive, often the first to arrive at work and the last to leave, he finds other uses for his time, and his subordinates follow his example.
While Penske's management style can best be described as "grind it out," he isn't afraid to throw a Hail Mary once in a while. In 2008, he bought the rights from Daimler to sell tiny Smart cars in the U.S. as a hedge against higher gasoline prices. When the cars didn't catch on, he worked out a deal with Nissan to develop a second larger Smart, but wound up giving the franchise back to Daimler instead. Two years later in another Nissan deal, he planned to buy Saturn from GM (GM, Fortune 500) and supplement its product line with cars built by Nissan's Korean partner Samsung. That deal was quashed by the board of Renault, Nissan's owner, and Saturn was killed.
If PAG is the biggest star in Penske's constellation, Penske Racing is the brightest, with a record of success going back to 1968. If you want to find Penske, now 75, during the month of May, a good place to look is trackside at the Indianapolis Motor Speedway. His team won their first Memorial Day 500 there in 1972, and it has finished first 14 times more, including five times in the last 11 years. With his shock-white hair and oversized headphones, Penske cuts an iconic image in the pits. "Industrialist" may be an old-fashioned term, but it fits what he does perfectly. It may not have the curb appeal of roadsters or chili mixes, but it is likely to be a lot more enduring.