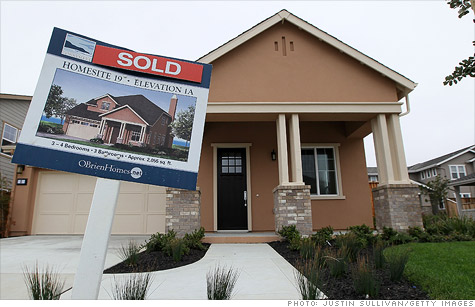 New homes sold at a faster clip in April than they have in a while.
NEW YORK (CNNMoney) -- Sales of new homes are showing some signs of life, growing 3.3% month over month to an annualized rate of 343,000 in April, according to a government report released Wednesday.
Sales are still slow compared with the boom years when they reached a rate of close to 1.4 million, but the month's results were slightly better than expected. Industry experts had projected a rate of 339,000, according to Briefing.com.
The prospects for developers seem to be improving. Luxury builder Toll Brothers reported profits for its second fiscal quarter Wednesday on the strength of its best spring selling season since the housing bust began.
"In some locations, it is no longer a buyer's market; in a few locations it's even a seller's market," said company chairman Robert Toll. "We would like to say 'We're back', but we need a little more confirmation: Nonetheless, it sure feels good, compared to the desert we've just crossed."
The future for all home builders is beginning to look a bit rosier, according to a Zacks Equity Research report. It said that average new-home prices increased due a jump in sales in upscale California, Arizona, Colorado and Florida communities where home prices are generally higher.
"It's the economy," said Mike Larson, a housing market analyst for Weiss Research. "Housing is out of the boom-and-bust cycle and now will be driven by employment and by confidence, each of which is showing slow improvement."
One of the most encouraging signs is how the gains are spreading. According to the Improving Market Index from the National Association of Home Builders -- which identifies metropolitan areas that have shown gains in housing permits, employment and house prices for at least six consecutive months -- 100 local housing markets out of 360 covered are now improving markets. Last September, when the index was launched, there were only 12 places on that list.
"The gains are still confined to markets that don't have a large overhang of distressed properties (foreclosed homes and short sales) and where economic conditions have gotten better but there are more of those now," said David Crowe, NAHB's chief economist.
He expects single-digit month-over-month increases in the rate of new home sales to continue, a slow, steady return to normalcy.