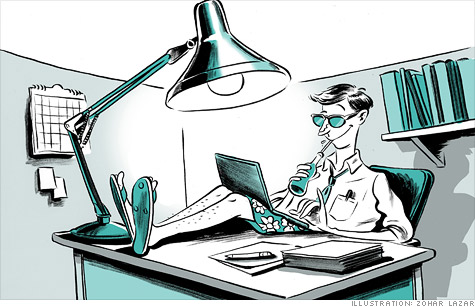 Try these tactics to boost your job satisfaction and make a day at the office more like a day at the beach.
(MONEY Magazine) -- Can't stand your job? Join the club. Some 60% of workers are dissatisfied, according to a recent study by Accenture.
Another survey, by the American Psychological Association, sussed out the reasons, which probably sound pretty familiar: Low salaries, lack of growth opportunities, heavy workloads, and long hours were among the most cited.
Alas, in this tight job market, telling one's boss to "shove it" is not an option for most working stiffs. In fact, nearly 70% of unhappy employees plan to stay put, as Accenture found. Still, if the daily grind is grinding you down, there is another choice: Use these strategies to get back your spark.
Advance the biggest ball
In managing your workload, you may feel as if you're treading water to stay on top of everything.
The antidote: Identify the responsibilities that are most important to your employer, and take concrete action each day on those, suggests psychologist Teresa Amabile, a director of research at Harvard Business School. In her studies on worker engagement, she found that employees got the most satisfaction by moving ahead on meaningful projects.
Own your own growth
To take charge of your advancement, identify skills you'd like to pick up, and propose projects that will help you develop those abilities, suggests Mary Lee Gannon, president of Pittsburgh executive coaching firm StartingOverNow.com.
If you're in marketing, say, you might offer to establish your company's presence on a new social media platform, like Pinterest. Besides keeping you engaged as you learn, "you'll be better suited for another position when it opens up," says Gannon.
Create a politics-free zone
Negativity can be contagious, but so can positivity. In her research, Amabile saw people with heavy workloads and concerns about job security who managed to remain happy thanks to having a supportive team.
Create an upbeat culture in your own work group: Praise others, discourage bad-mouthing, get to know optimistic co-workers better.
Find ways to connect with your customers too, suggests attorney Andrew Sherman, a partner with Jones Day who advises growing companies. Doing so can be a good reminder, he says, that "you're making a difference."
Use the freedom you've earned
Accenture's survey found that 64% of employees were staying put because their jobs afforded some flexibility.
If you're feeling worn down, avail yourself of options like work-from-home days or flextime.
Telecommuting, for example, gives you better control over your daily schedule. And without distractions, you may have time to dig into exciting projects, says Gannon.
Carving out even a few hours a week for work you care about can help you rediscover what you loved about your job in the first place.
Do you know a Money Hero? MONEY magazine is celebrating people, both famous and unsung, who have done extraordinary work to improve others' financial well-being. Nominate your Money Hero.