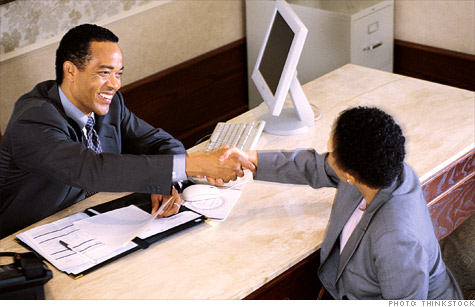 NEW YORK (CNNMoney) -- After hitting record membership last year, credit unions are still piling on new customers.
Credit unions added 667,000 new members in the first quarter to a record 92.5 million, according to data released Friday by the National Credit Union Administration, which represents the nation's 7,019 federally-insured credit unions.
That quarterly gain in membership is 62% higher than the increase of 412,193 members in the previous quarter. And it's nearly half the increase seen for all of 2011, when credit unions added 1.4 million members. Membership refers to the number of new customers, not the number of accounts being opened.
Much of the growth in last year's membership occurred during the second half of the year, as nationwide campaigns encouraged customers to leave their big banks and open accounts at community banks and credit unions, which tend to incur fewer fees.
Among the catalysts for these campaigns was Bank of America's (BAC, Fortune 500) plan to impose a monthly fee for debit card use, which it scrapped after seeing the backlash from consumers.
In addition to record membership, credit unions' assets and net worth also hit record highs. Total assets, which include cash and deposits, grew by $40 billion, or 4%, to top $1 trillion for the first time, while industry net worth, which is the credit unions' total retained earnings, increased by 2% to $100 billion.
Credit union members have also been ramping up their saving so far this year. During the quarter, total savings among members increased $39 billion, or 5%, to $866 billion. That's more than four times the mere $8 billion increase in savings in the fourth quarter and compares to a $41 billion rise in savings for all of 2011.
Meanwhile, delinquencies and charge-offs declined during the quarter.
But as many members boosted their savings, others fell behind. Credit unions reported that 70,938 members filed for bankruptcy during the quarter, up 35% from the previous quarter.