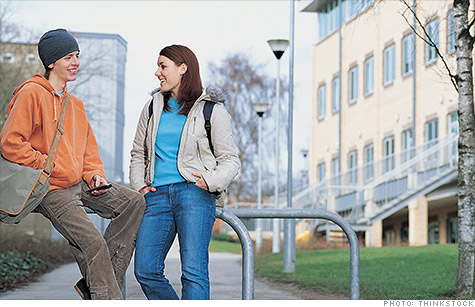 College students would get more detailed information about college loan costs under a proposal from the Obama administration.
NEW YORK (CNNMoney) -- The Obama administration announced a push to have colleges make better disclosures to students about the true cost of loans, as well as graduation and loan default rates at each school.
Vice President Joseph Biden, Education Secretary Arne Duncan and Richard Cordray, director of the Consumer Financial Protection Bureau, were set to meet Tuesday with presidents of 10 colleges that have committed to providing more detailed disclosure information to incoming students at the start of next school year.
The Obama administration officials at the meeting will later call on all colleges and universities to make the same disclosures.
The information to be provided by the 10 schools includes how much one year of college will cost, financial aid options to pay this cost, and net costs after grants and scholarships are taken into account.
They will also give students estimated monthly payments for the federal student loans the student would likely owe after graduation; and comparative information about the rates at which students enroll from one year to the next, graduate, and repay their loans without defaulting.
"Too often, students and families face confusion when comparing financial aid packages, some of which do not clearly differentiate loans from grants, nor distinguish private vs. federal loans, making it difficult to compare aid offers side-by-side," said a statement from the White House announcing the meeting.
The schools represented at the meeting were Arizona State University, Miami Dade College, North Carolina A&T, the State University System of New York, Syracuse University, the University of Massachusetts system, the University of North Carolina at Chapel Hill, the University of Maryland system, the University of Texas system and Vassar College.