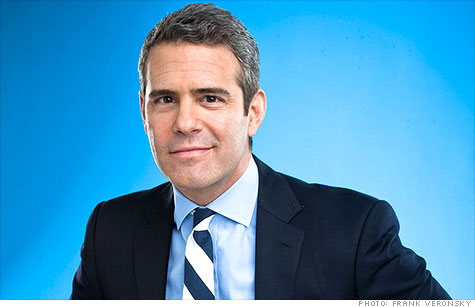 Andy Cohen: "There should be no limits."
FORTUNE -- "I always knew I wanted to be in front of the camera. But even after 10 years behind the scenes at CBS News producing live segments, celebrity profiles, and breaking news, I still hadn't been given the chance to be on TV. I started working at Bravo in 2005, when I was offered a job by Lauren Zalaznick, the network's chairman. She encouraged me to start a blog. I wrote behind-the-scenes gossip about Battle of the Network Reality Stars, the first show I took on as head of current programming. Lauren encouraged me to try new things, while also making sure I stayed focused on what I was originally hired to do: be a behind-the-scenes executive who sat behind a desk and oversaw our shows' production.
"In 2007 we decided that The Real Housewives of Orange County was going to have a reunion show, but we needed a host. I got asked to do it, and of course I said yes. This is what I always wanted! Lauren told me that just because something isn't in your job description doesn't mean it can't be part of your job. And it's true. There should be no limits to what you can do."
Andy Cohen
Age: 43
Job experience: Producer, CBS News' 48 Hours; executive producer The Early Show; vice president of original programming for Trio, where he developed such programs as Brilliant But Cancelled; senior VP of original programming and development for Bravo.
Claim to Fame: Host of Watch What Happens Live, a talk show; nominated for 12 Emmy Awards at Bravo; won an Emmy in 2010 for Top Chef (Outstanding Reality Competition Program); winner of two Peabody Awards -- for his role as executive producer for the Trio documentary The N Word and as an executive producer on Project Runway.